Daydream Island Activities & Attractions
The list of Daydream Island attractions and activities is one of such length that it would be impossible to see and experience them all in one or two days. Daydream is the perfect place to get pampered, unwind and above all, have fun. In addition to the magnificent surroundings of bushland, beaches and the Great Barrier Reef, the extraordinary sports and leisure facilities provide you with the opportunity to relax and breathe new energy into your lifestyle.
An island paradise that is perfect for families Daydream Island is the closest island to Shute Harbour. Day-trippers are welcome with an array of features such as a swimming pool, tennis courts and water sports it is the perfect fun-filled island attraction in the Whitsundays.
There are three beaches accessible from Daydream Island, one bustling with colourful marine life, lined with coral, making it an ideal area for snorkelling. You can also adventure along trails through the centre and across the highest point of the island where parrots occupy the dense tropical vegetation. From Daydream Island you can then explore the rest of the Great Barrier Reef, and more of the Whitsunday Islands.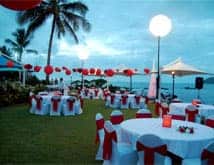 The Living Reef Display is a favourite with families, particularly those with young children, who can interact with the many marine species on display. This is a destination that will please all ages. There is a plethora of activities to choose from, including snorkelling, sailing, jet skiing, parasailing, water skiing, scuba diving, wind surfing, volleyball, and swimming.
Daydream Island combines the lure of the tropics with the attractions of a beautiful Island resort. From diving the Great Barrier Reef, to simply lazing on golden beaches – Daydream Island attractions offer the best of all worlds.