Blue Dolphin Marine Tours - Full Day Whale Watching
WHALE WATCHING »» August - October
Join Hervey Bay's longest running sail whale watching vessel.
Blue Dolphin Marine Tours are also the smallest in the fleet at just 10.5m in length. Most of the whales they see are 10 to 13 metres in length and 30 tonnes or more, that over 5 times our weight. So when you see a whale from Blue Dolphin you really see a whale!
With a small number of passengers an unforgettable and intimate experience awaits you. Only 20 people maximum.
Vessel feature
Extremely stable
Wide decks - ample room to move
Licensed
Full day trip
Morning tea and lunch included
Prices
Adults: $120
Child: $90
Family: $370 (2A, 2C)
Valid: July 19th to October 25th 2014
Departs the marina at 7.30am and returns approx 3.30 pm
DOLPHIN CRUISE »» November - July
Departs and Returns:
8.30 am – 12.30 pm
Includes:
morning tea
Cost:
Adults - $70
Children - $40
Family - $200
Valid: November to July
CHAMPAGNE SUNSET SAIL »» November - July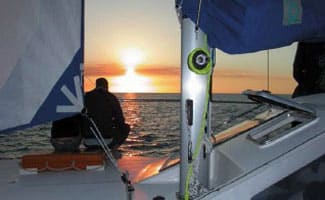 Departs and Returns:
5.15 pm – 6.45 pm Summer
4.30 pm – 6.00 pm Winter
Includes:
champagne, beer, wine and nibbles
Cost:
Adults - $55
Children - $30
Family - $150
Valid: November to July