Quick Cat II - Half Day Whale Watching
Urangan, Hervey Bay
Whale Watching
Since 1987 Hervey Bay Whale Watch has introduced and run full day, dawn and half whale watching trips. It is no secret that the half day whale watching trip is the most popular trip as the Queensland National Parks and Wildlife statistics show. With low to the water, fast vessel like Quick Cat II, they are way out in front carrying over 50% of the total passengers carried in past seasons.
Choose your Whale Watching Trip
Quick Cat II offers the most popular whale watching trip in Australia, the half day trip.
Departing 7.00am till 12 noon and again at 1.00pm till 5pm daily from mid July till early November.
They were the first in Australia to guarantee whale sightings and are still the only company that has its own whale spotter aircraft.
Over the years they have tried whale watching in big boats with hundreds of people, but decided to stay in the small to mid range. They have found that they are able to offer very personal, face to face and educational whale watching trips, while adding a few stories of past years from the very beginning of the industry of experiences they have gained.
Even though they can offer information and give a very informative service on each vessel they like to see their whale watching passengers becoming involved. They are not just a voice on the microphone. They like you to ask the questions, and if on the very rare occasions that they can't answer your questions, they will find out.
Underwater Whale Watching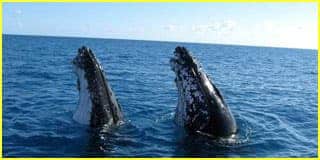 While humpback whales spend a lot of time on the surface they also spend most of their time under the water. Being able to watch whales under the surface is an awe inspiring sight.
Over the years Hervey Bay Whale Watch has developed underwater cameras that are not restricted to an area around the vessel, but can track the whale right to the ocean floor.
Live to air vision is beamed direct to on board monitors that allow passengers to view the action both on the surface and below the vessel at the same time. This vision is recorded live and available on video and CD for purchase.
This system that they have developed is now being taken up by other whale watching and marine charter/research companies both in Australia and overseas.
Prices for their half day whale watching trip this year (2013) are:
Adult: $115
Child (4-14): $60
Student / Senior: $100
Family (2A + 2C): $299
Family (2A + 3C): $349
» Click here for Whale Watch + Fraser Island Super Passes
Valid for 2014 season
Included in your half day whale watch aboard Quick Cat II
Guaranteed Sightings. Free return ticket if no whales sighted
Light Breakfast
Morning/Afternoon tea, fresh muffins
Hydrophone Equipped to listen to the whale song
Underwater viewing
Courtesy Pick Up (Hervey Bay Area)
Fully Licensed
Twin Engine, Fast, Stable Super Catamaran
Three easy access viewing decks
Low Passenger Numbers
Wheelchair access to main decks including fore deck
Marine Park Levies
Official Guide to Hervey Bay Whale Watch to all children
Video available of your trip for purchase including underwater footage when conditions allow
Australia's most advanced whale watch vessel
A fun trip giving educational informative and personalized experience from Australia's most experienced whale watch crew
The Vessel
Quick Cat II was designed from the experience that Hervey Bay Whale Watch has gained from being Australia's longest established whale watch company.
The new vessel contains many innovative features not seen on any other whale watch vessel.
Quick Cat II not too big but not too small.
An extremely fast, fuel efficient, wide bodied super catamaran that leaves little wash or wake making it very friendly to the environment.
Quick Cat II deck design makes moving around the three deck levels easy and safe.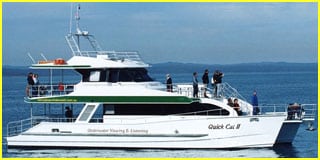 With the use of ramps running from the main deck to the fore deck allows both able-bodied and disabled passengers freedom to move right round the main decks. The large uncluttered fore deck has been made a lot safer area with things like anchors, chains and anchor winches all situated under the deck, so passengers can't trip or fall on them The fore deck also offers two large bow spits, that conditions permitting, allow passengers to view dolphins riding the bow waves.
Quick Cat II has a very large upper deck
This can be accessed from either stairs from the fore deck between the amphi-theater seating or from the rear deck near the full size wheelchair accessible toilets. With the emphasis again on passenger safety and comfort the upper deck gives a 360 degrees view with both the upper and lower rear deck offering large curved balconies that have passengers out over the water for a birds eye view.
Quick Cat II is fully licensed and has a well stocked kiosk on board.
Passengers can purchase souvenirs, film, sandwiches, hot pies, hot dogs, ice creams, drinks etc.
Quick Cat II caters for kids.
Every child on board receives an "Official Guide to Hervey Bay Whale Watch".
A booklet that gives children the real story on the history of Whale Watching in Hervey Bay and includes games, puzzles, pictures and information for school projects.
Quick Cat II spotter aircraft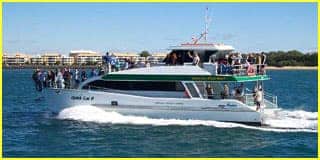 They are the only company which own a spotter aircraft. While years ago it was essential that the eye in the sky was out there, these days the air craft is used more as a security measure being used daily at the start and end of the season and on days when spotting from the vessels may be a little harder than normal.
Seats are available for purchase to experience the feeling that they had when they flew the first day that the industry was born.
No, you can't throw any toilet rolls out the window!
Quick Cat II passenger comfort
To further enhance their environmentally friendly, passenger comfort and safety, they ask that all rubbish, containers, food wrappings, etc. be placed in the bins provided.