Hinchinbrook Island - North Queensland
Australia's largest island National Park is located on Hinchinbrook Island in far North Queensland, and is separated from the mainland by the Hinchinbrook Channel, Rising to 1142 metres in the centre of the island are the jagged battlements of Mt Bowen.
The stunning north face of Mt Bowen drops 1121 m in cliffs and forested slopes almost to sea level. From here a narrow, 8 km long strip of sand, stretches north to connect with Capes Sandwich and Richards, where the Hinchinbrook Resort is to be found. Hinchinbrook is the perfect place to restore body, mind and spirit. This is the Island to choose if you want peace, beauty and tranquility.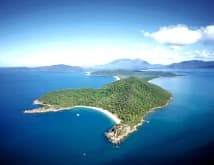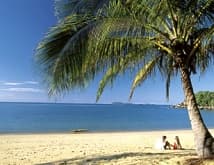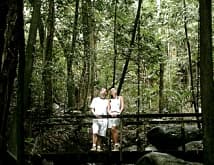 This is an Australian island resort where there are 11 beautiful sandy beaches on Hinchinbrook Island, including North Shepherd, Macushla and South Shepherd. You can enjoy absolute seclusion on several of them.
At the very northern end of Orchid Beach access is made to the lookout on Cape Richards, the best spot to view sunsets, dolphins and the neighboring islands. To the southern end of the beach a short walk leads to Turtle Bay where most afternoons' large sea turtles feed on marine grasses and are close in enough to touch.
For the energetic visitor, walking is fairly easy through the light bush sections of the park and with very little luck the walker will observe the abundant bird life for which the island is renowned. The National park is 39000 hectares in size! There are many types of wildlife to be seen in and around Hinchinbrook Island.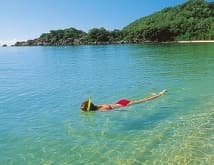 Important Travel Information: