Main Beach - Tourism & Holidays - Travel & Vacations
Main Beach on Queensland's Gold Coast, is fast becoming one of the regions most popular tourist destinations. Main Beach is conveniently located between Surfers Paradise and the Southport Broadwater and contains everything you need to have a sensational beachside holiday. The attractions that make Main Beach so special are numerous. Firstly, it has one of Australia's best surfing beaches. This beach has become the mecca for windsurfers and kite surfers on the Gold Coast. It also has calm water frontage onto the southern end of the Southport broadwater which provides a delightful place for families with kids to play in the shallows and have picnics and barbques. This part of Main Beach is a boat lovers paradise with boat ramps and marina's and many other aquatic activites.
If you like dining out or coffee in a trendy cafe, then main beach is definatly for you. There are two cosmopolitan areas where you can enjoy a latte or an alfresco meal in one of the Gold Coasts leading restaurants. The Tedder Avenue commercial area is full of wonderful cafes and restaurants and is a favorite shopping destination for the well to do. The Marina precinct is another great destination for shopping and eating out.The marina Mirage shopping centre is full of trendy boutiques and the area surrounding the large marina precinct is full of waterfront restaurants and cafes.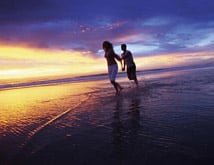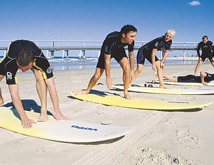 Some of the Gold Coasts best up market resort apartments are in Main Beach, including Palazzo Versace - the Worlds only six star Versace hotel, and the Sheraton Mirage resort which has a superb beach fron position. Main Beach also has a large number of apartment style resorts, many of which line the beautiful espalande and have fantastic views over the surf beach. One of the Gold Coasts best loved theme parks is located on the Southport Spit and is walking distance from Main Beach. The Seaworld complex is a must for any visitor to the region. There is an adventure park section with fantastic thrill rides, an aquatic display of marine creatures such as seals and dolphins and a water park for the family to cool off on a hot summers day and there is also resort accommodation at Seaworld resort for those who want to stay within the park itself.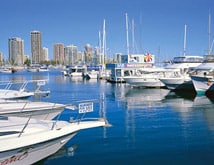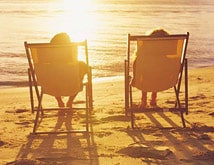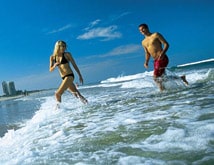 In October each year, the streets of Main Beach come alive with the roar of the V8 supercars when they race through the street circuit that runs through the Main beach esplanade and suburban Streets. The area is partitioned off from the surrounding streets and Main Beach becomes party central for the duration of the racing event.Tens of thousands of race car lovers descend on Main Beach and the crowds line the track and the balconies of the surrounding high rise apartments.