Mission Beach Apartments - Units - Town House - Condominium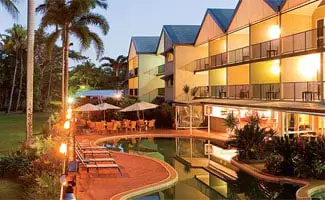 Making up a large section of the accommodation market is the Mission Beach Apartments, hotels and holiday resorts. Mission beach is located about one and a half hours drive south of Cairns and in a region that is a famous holiday destination. Dense rainforest line the coast and offshore are a cluster of magnificent islands, some of which have world class resorts on them. In Mission beach itself, there have been many apartment style resorts constructed that cater for both the family market and the influx of international tourists that are drwn to holiday in this pristine tropical environment. Some of the mos t popular of these apartment providors are Eco beach resort, with its individual rainforest apartments and Castaways resort that is located right on the beachfront in Mission beach.
Located supremely allowing guests access to many attractions that are featured in Mission Beach, Apartments are one of the leading forms of accommodation. Mission Beach apartments are also close to restaurants, shopping centres, novelty stores, beauty salons and pubs.
Mission Beach is a place where the rainforest meets the sea and a place where you can choose the style of apartment you want. Beachfront apartments are popular as are the ones situated on the hillsides commanding panoramic ocean views over the entire region. Mission Beach Apartments book out quickly as the area is a growing holiday destination, so it would be wise to book as soon as possible to ensure you get what you are looking for. Whatever you are looking for in Mission Beach Apartments, there is sure to be at least one that will cater to your every need, making your Mission Beach accommodation and holiday a thoroughly pleasant one.