Mooloolaba Apartments - Units - Town House - Condominium
Mooloolaba apartments and apartment style resorts make up the lions share of self catering holiday accommodation available in the Mooloolaba area. A choice of great places to stay tends to be close to the beaches and the major tourist centers and the apartment style accommodation resort is by far the most popular, right along the coast. In Mooloolaba there are dozens of great resorts and thousands of apartments for you to select from. On the Mooloolaba esplanade is a row of fantastic high rise resorts that include properties like Zanzibar resort, Sirocco resort and the beautiful Mantra Mooloolaba.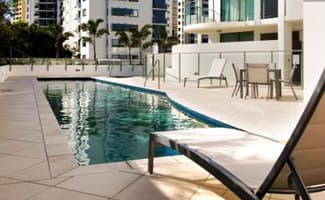 This beautiful apartment style resort is right on the beachfront and have spectacular views over Point Cartwright and the rolling surf crashing on the beach. At street level, there are shopping arcades and a multitude of alfresco dining and cafe options. The holiday atmosphere along this strip is the major reason for Mooloolaba's popularity as a holiday destination. The apartment resorts extend back into the streets behind the esplanade so there is lots of great Mooloolaba apartments to investigate.
Why not book a Mooloolaba apartment today and come for a long and relaxing Mooloolaba holiday.
Apartments at Mooloolaba: