Fraser Island - The Discovery Group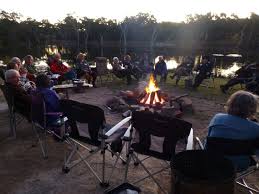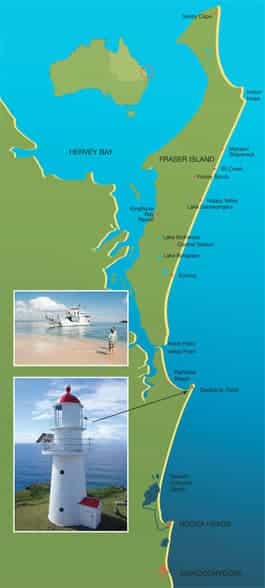 Fraser Island - A World Heritage Paradise
Fraser Island attained its World Heritage Listing in December 1992 in recognition of the island's exceptional sand dune systems, its rainforests on sand and its pristine freshwater lakes and is the tenth World Heritage listed site in Australia. It joins the ranks of the Great Barrier Reef, the Wet Tropics of Queensland, Uluru National Park (formerly Ayers Rock) and Lord Howe Island. The listing recognises Fraser Island's combination of environments as having outstanding universal value.
Fraser Island has emerged from a century of exploitation of its rich resources - timber, sand minerals and fish. Logging and sand mining have ceased after many years of campaigning by environmental groups. The challenge for the island in the future will be in managing the growth in tourism but the responsibility of protecting Fraser Island for future generations belongs to all visitors in respecting the island's environment. Travelling from Noosa, Fraser Island Discovery practices responsible eco tourism.
The unique qualities of Fraser Island make it a destination you must see!
One Day Tours
Fraser Exclusive Day Tour
Their fleet of luxury six seater, air conditioned Landcruisers avail the ultimate in comfort and safety whilst offering an extreme 4 wheel drive adventure. These top quality vehicles give us the edge... greater acess to remote beach stretches... faster through even the most rugged terrain. Their team of highly experienced driver guides boast extensive resumes in touring and great you complete with unparelled knowledge and a dedicated focus on making your a most magical day.
Your adventure begins with complimentary pick up from your local accommodation at 0620 hours, before heading across the Noosa River, bound for the Cooloola National Park. An exhilarating drive along wet sandy beaches leads you to Rainbow Beach coloured sands. Over a cup of coffee or tea with fresh danish pastries, you may learn of the mysterious legends surrounding these magical cliff faces. They celebrate your adventure with chilled champagne and orange juice served on the silken beaches of Rainbow Beach.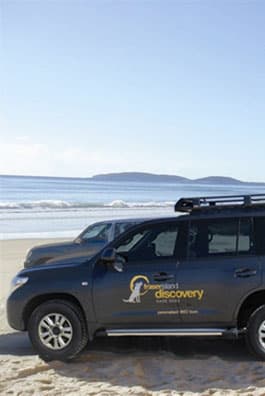 Through Rainbow Beach to Inskip Point, they embark on the barge to Fraser Island... a brief crossing that may delight you with sightings of playful dolphins. Travelling 75 mile beach is an exciting experience as they navigate the pristine sands towards Eurong Village, then the off road terrain into the island's core. Discover the awe of nature as you are guided through the rainforests of Central Station or Yidney Scrub, before a leisurely lunch stop at Lake McKenzie, Lake Birrabeen, or one of the island's spectacular freshwater creeks.
Your return journey is an invitation to enjoy the forestry wonders of Fraser Island - scribbly gums and eucalypts contrasting with blackbutts and string barked satinays. Back on the mainland, you'll enjoy afternoon refreshments on deserted beach stretches before returning to Noosa by 4.30 p.m., in time for you to recharge your batteries for an evening of leisure following a day of adventure.
Pricing:


$169 per Adult
$115 per Child
$159 per Concession
$445 per Family (2A + 1C)
$550 per Family (2A + 2C)
$660 per Family (2A + 3C)
$765 per Family (2A + 4C)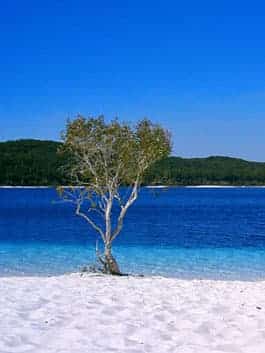 Depart Sunshine Coast / Noosa / Rainbow Beach
Fraser Island Discovery's legendary one day tour
Tour departs daily, excluding 25th and 26th Dec
4WD air-conditioned coach – max group size 20
Children: 0 – 14 years inclusive
Fraser Day Tour
Jump aboard our brand new purpose built "Warrior" 20 seat 4WD and experience a great value tour of World Heritage Listed Fraser Island. Your experienced and knowledgeable guide will provide you with informative and fun commentary in air-conditioned comfort.
Your discovery departs from Noosa before heading across the Noosa River via cable ferry crossing taking you deep into the Cooloola National Park and highlighting the Teewah and Rainbow Beach coloured sands before stopping for morning tea on the beach.
Over to Fraser Island you'll travel along the spectacular Seventy Five Mile Beach to explore the natural beauty of this magnificent wilderness with a guided rainforest walk. On for an authentic Aussie BBQ Lunch followed by a refreshing freshwater lake swim tops off a perfect day of discovery on the World's largest sand island!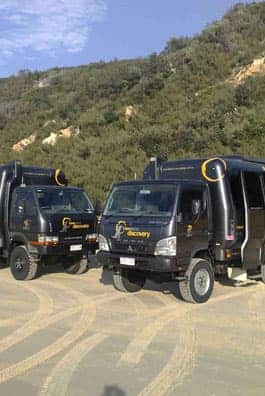 Return through the towering forests of Satinay and Brushbox and navigate your way down the 'sandy highway' enjoying an afternoon tea stop on remote beach stretches before returning to Noosa.
Experience the excitement of the worlds best beach drive in their purpose built "Warrior". Specially designed and engineered for your Day Tours it is simply the toughest and most comfortable 4WD of Fraser.
The "Warrior" offers:
Spacious coach-style seating for up to 20 guests
Individual air-conditioning vents
Spacious coach-style seating
Seat belt equipped
Digital PA and stereo system for entertaining and educational commentary
***Child and Booster seats provided and fitted upon request.
Two Days of Discovery
Fraser Island Discovery offers you the ultimate 2 Days of Discovery tour to Fraser Island.
Experience a personalised small group tour "with a difference". Slow down , take your time , absorb the unique character of World Heritage Listed Fraser Island at your own pace. The 2 Days of
Discovery tour provides a unique blend of a genuine wilderness experience with the comfort and sophistication of overnight accommodation at the Islands most prestigious resort. We invite you to experience the very best tour of Fraser Island…
All meals provided other than dinner at Kingfisher Bay Resort.
2 Days of Discovery Tour departs Noosa Sundays and Wednesdays.
2 Days of Discovery Tour does not operate December 24th to January 14th inclusive.
Pricing:


F2Day - Share Accom (1 passenger) - $369
F2Day - Share Accom (2 passengers) - $738
F2Day - Share Accom (3 passengers) - $1107
F2Day - Share Accom (4 passengers) - $1476
F2Day – Twin Share (with private bathroom) - $778
F2Day - Double Share ( Sole use of Apartment) - $878
F2Day - Family (2Ad/1Ch) - $1100.01
F2Day - Family (2Ad/2Ch) - $1395
Price F2Day – Family (2Ad/3Ch) - $1700
Depart Sunshine Coast / Noosa / Rainbow Beach
2 Days of Discovery Fraser Island tour
Overnight accomodation at Happy Valley
All Rates are valid between 01/04/12 - 31/03/13