Reef Encounter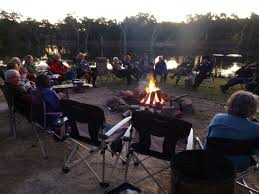 The Reef Encounter is a 35 metre catamaran located right along side the Great Barrier Reef. For a liveaboard adventure, the Reef Experience Cruise will take you at 7:30am from Marlin Jetty, Cairns to the Reef Encounter to enjoy your choice of a Snorkel or Dive Adventure or an Open Water Scuba Dive Course. You can choose to stay 2 days/1 night, 3 days/2 nights, 4 days/3 nights, or longer.
Instead of being transfered to the Reef Encounter with the Reef Experience, you can also choose to be transfered from Cairns or Port Douglas to the Reef Encounter via helicopter or seaplane.
Helicopter flights from Cairns or Port Douglas landing directly onboard Reef Encounter's exclusive Helipad.
Cairns Seaplanes operate daily with a half-day option as well as a daily transfer option for guests who wish to stay onboard.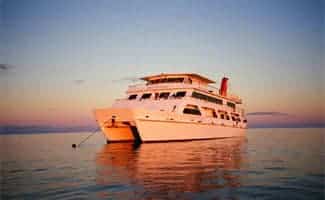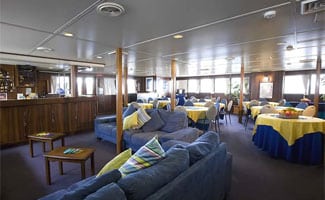 FACILITIES:
21 twin/double staterooms (all have private bathrooms).
Air-conditioning.
Fully Licensed Bar.
Complimentary Tea, Coffee & Milo all day.
Dining Room - Chef prepared meals made fresh daily on board.
Heated Spa
Easy access to snorkelling / scuba dive platform.

Snorkel & Dive Equipment
Dive Tender vessels.
Spacious Sun Deck with sun lounges.
Glass Bottom Boat.
TV / Video Room.
Heli Pad.
Reef fishing is available - advanced bookings are essential.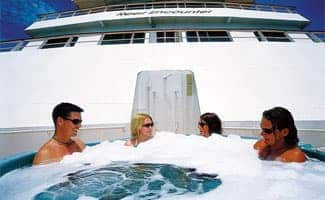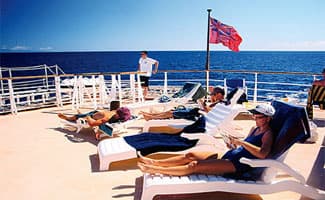 ACCOMMODATION
Staterooms:
These are modern staterooms with double or twin beds and plenty of storage, they all have an ensuite bathroom. All meals included.
Top Deck Club:
The Top Deck accommodations are deluxe staterooms on level 1 and these include; champagne on arrival, tropical breakfast served to your room daily, use of the exclusive private sun deck, complimentary sunset cocktail with the captain.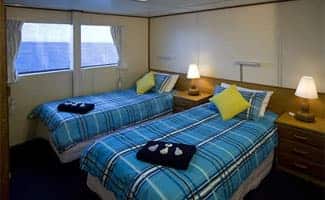 DIVING
Introductory Divers:
You can try the 10 minute introductory dive, no experience needed, professional dive instructors.
Certified Divers:
Experienced divers will enter a wonderful world of colour and marine life. Divers will get the change to interact with Sea Turtles, the giant Maori Wrasse and many other creatures.
Learn to Dive - Scuba School:
Personalised Open Water Dive Course is great for beginners and experienced divers. The program offers over a period of 3 days / 2 nights 6 skilled sessions with 8 pleasure dives. There is no pool or classroom, learn by experience with a professional dive instructor and be certified in just 3 days.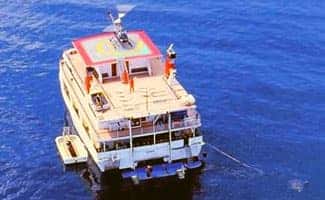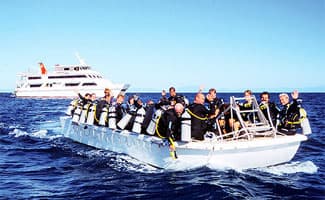 REEF ENCOUNTER'S LEVELS
| | | |
| --- | --- | --- |
| Main Deck | Upper Deck | Roof Deck |
| | | |
CRUISE COSTINGS [2012-2013]
Snorkel Adventures
2Day-1Night
3Day-2Night
4Day-3Night
Snorkel Adventures
[per person / twin share]
$410.00
$625.00
$825.00
TOP DECK Snorkel Adventures
2Day-1Night
3Day-2Night
4Day-3Night
Snorkel Adventures Top Deck Club
[per person / twin share]
$755.00
$1,145.00
$1,520.00
Certified Scuba Diving Experience
2Day-1Night
3Day-2Night
4Day-3Night
Certified Dive
[per person / twin share]
$500.00
$765.00
$1,015.00
TOP DECK Certified Scuba Diving Experience
2Day-1Night
3Day-2Night
4Day-3Night
Certified Dive Top Deck Club
[per person / twin share]
$845.00
$1,310.00
$1,760.00
SSI Personalised Open Water Scuba Dive Course
4Day-3Night
Personalised Open Water Course [per person / twin share]
$1,231.00
Accommodation Pickups & Return Transfers

City Pickups - $10
Outer Suburbs & Northern Beaches Pickups - $18
Port Douglas Pickups - $35.00 per person one way and $70.00 per person return
A $15.00 per person per day levy is payable - this levy is a combination of a Reef Tax, Port charge, fuel levy and management levy.

Reef Encounter packages include:- Twin or Double stateroom with private bathroom, Chef prepared meals, All Dive Equipment with the exception of Wetsuits and Dive Torches. Coffee Tea and Milo are available all day for guests free of charge. Fresh Fruit is available at all times onboard Reef Encounter.
Additional Charges:- There is a $15.00 per person per day levy which is payable This charge is a combination of Reef Tax which is the Australian Government charge to visit the National Marine Park The Great Barrier Reef - A Port Charge, a fuel levy and a management fee. Wetsuit hire $5.00 per person per day, Dive Torch Hire $5.00 per person per day. Alcohol and soft drinks, cameras, T-Shirts, souvenirs etc
Prices valid to 31 March 2013