Orpheus Island Accommodation
Orpheus Island accommodation oozes luxury and comfort. All the accommodation has been recently redecorated and updated and will please the most fastidious customer. The resort features the most beautifully kept tropical gardens and the accommodation is secluded yet close to the beach, swimming pools and restaurant areas.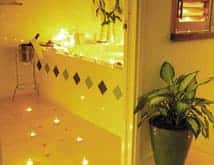 At Orpheus the food is to die for. The restaurant overlooks the beach and the gardens and has a wonderfully relaxing atmosphere. Orpheus Island resort is accessed from Townsville by seaplane. There is a limit of 42 guests at the resort with no day trippers or children under 15. Orpheus Island resort is a great place to escape to when you want to truly relax.