Palm Cove Luxury Accommodation - Five 5 Star Boutique Accommodation - Palm Cove Luxe
Palm Cove is a great holiday destination where luxury accommodation lines the beachfront. This is one place where the resort developers have let their imagination run riot when designing new and spectacular resorts to compliment the beautiful tropical surroundings that are prevalent in Palm Cove. This is such a popular resort destination that many new resorts have sprung up over the past few years and the beach in Palm Cove is the best in the whole Cairns to Port Douglas region. Palm Cove is also centrally located in Far North Queensland so the tours and attractions of the whole region are available for holiday makers staying in Palm Cove.
Some of the best luxe resorts in Palm Cove are comparable with the best accommodation in Port Douglas or Cairns. The Sea Temple Resort has an absolute beach frontage position. Huge swimming pools and thatched shade huts and dining facilities surround it. The apartments are set in a U shape facing the ocean with the best luxury apartments all overlooking the pool and the view. Angsana Resort, although older, is also right on the beachfront and provides luxury accommodation.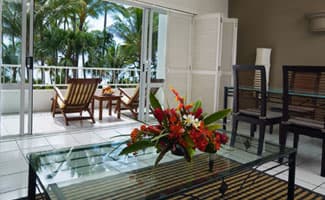 The main esplanade then follows the beachfront and a number of luxury resorts have been built here. Although they have the road between the resorts and the beach the settings and the ocean views are all exceptional. Palm Cove is known for the huge Melaleuca trees that grow right along the beachfront. Some of these resorts include the Grand Mercure Rochford Esplanade Apartments, Peppers Beachclub and Spa, Sanctuary Resort, The Sebel Reef house and Spa, Paradise on the Beach apartments and Mantra Amphora Resort.
In the streets behind the beach other luxury accommodation can be found at Novotel Rochford Palm Cove, Palm Cove Tropic Apartments, Oasis Palm Cove and Elysium Apartments. As you can see there is plenty of luxury accommodation to choose from and all within walking distance of the beach, restaurants and cafes.
If you are pining for a fantastic holiday being pampered in luxury accommodation, then Palm Cove luxe could be the right destination for you.