Fishing Charters in Queensland and Mackay
Queensland is the most popular destination in Australia for a fishing charter. The temperate to tropical climate makes it ideal for fishing all year round and the ocean and inland fishing destinations are second to none. The Great Barrier Reef runs almost the full length of the Queensland coast and its prolific waters produce fantastic catches of many different species of fish. Some of the Queensland fishing destinations are icons on the world fishing scene. The American fishing icon "Zane Grey" Put the Queensland fishing industry on the international map during the 1950's and 60's when he made annual pilgrimages to Cairns in far North Queensland in an attempt to catch a world record Black Marlin. Australian TV identity Bob Dyer similarly, made annul trips to Queensland to go game fishing along the Great Barrier Reef. Today, sports fishermen from around the world, travel to many destinations around Queensland in the never ending search for quality fishing.
The Australian Barramundi is one of the worlds great sport fishing species and it is found in the estuary's, rivers and streams almost the entire length of the Queensland coast. It grows to almost 140 kilos in size and has an awesome reputation as a fighting fish. Nearly all of the impoundments throughout Queensland are stocked with Barramundi and they grow to huge proportions here. This is the place to catch a metre plus barramundi. One of the best place to get a barramundi charter is in Mackay in central Queensland. This is also a popular destination for reef and game species. The waters off Mackay are thick with many large reef fish species such as Coral Trout, Red Emperor and Nannygai. Airlie Beach fishing charters are easy to find and there are several excellent operators that can provide extended trips or full and half day tours.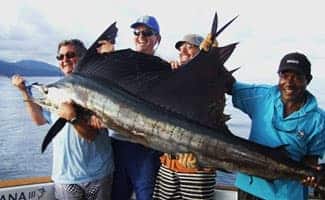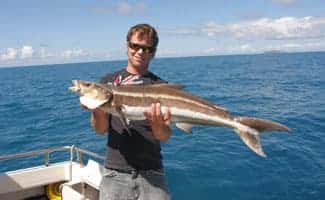 In the south of Queensland the waters off Hervey Bay, Fraser Island and the Gold Coast also have great fishing charter operators. These waters produce excellent snapper and Pearl perch as well as many of the popular reef species that are reputed to be among the best table fish. Such species as Coral Trout, Mackerel and Job Fish are common. If you are looking for a great day out on a charter fishing boat this website contains information for most of the popular regions.