Information about Queensland Golf Holidays
Many people come to Queensland for a golf holiday. During the southern winter, thousands of Victorians and Sydneysiders take the opportunity to holiday in Queensland and enjoy one of the hundreds of great golf courses in the sunshine state. The Queensland golf scene has a special reputation among golfers for the quality of the courses on offer.
The Gold Coast golf scene is always high on every golfers list, with over 40 excellent courses to choose from. There are a number that would rank in Australia's top 25 layouts. Places like Sanctuary Cove, Robina Woods Royal Pines resort and several others are on most golfers must play list. The Sunshine Coast, north of Brisbane is similar with great resort courses like the Hyatt Coolum and the Twin Waters layout at Marcoola. In Noosa there are great courses at Noosa Springs resort.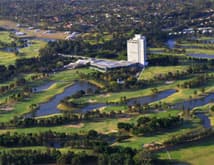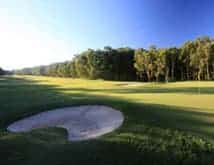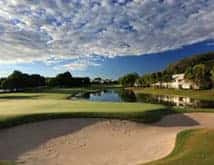 As you move up the Queensland coast, there is a golf course in almost every town and they all welcome visitors. The Gympie Golf course is challenging with its hills and valleys. The Maryborough course is a great challenge and at Hervey Bay the local course is voted in the top ten rural courses in Queensland. As you move up towards the Whitsundays region there are two special golf challenges that you have to take. The Laguna Quays layout, south of Proserpine is a great way to spend the day and Hamilton Island resort now has a brand new layout on nearby Dent Island that will rival any course in Australia. This new Golf course will become known as the Pebble Beach of Australian Golf.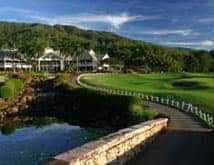 Golf is a favourite holiday pastime in far north Queensland. Both Cairns, Palm Cove and Port Douglas have superb resort layouts and the local golf clubs are also excellent. In Palm Cove try to play at the Paradise Palms layout and in Port Douglas the Sheraton Mirage resort and the Sea Temple resort both have fantastic resort style layouts.
If you are coming to Queensland on holiday we can help arrange your transfers and accommodation as well as advising you on the best local golf courses to choose from.