Queensland Whale Watching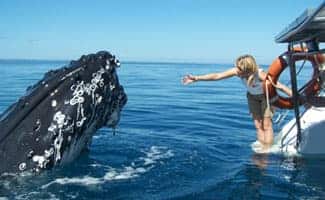 Whale watching in Queensland has become a favourite holiday pastime. Every year the annual migration of humpback whales follows the east coast of Australia and their route takes them so close to the coastline that they can often be observed from coastal headlands and beaches. An industry has grown up around this migration to fulfil people's wishes to get close to these magnificent animals that were hunted so close to extinction. In Hervey Bay whale watching trips first started in around 1987 when local charter fishermen first started to notice that a resurgent population of whales was coming into the bay as part of their annual migration. They started to do whale watching trips and the action was so spectacular that tourists flocked to the area as word of mouth spread. The Hervey Bay area was declared a marine park and the whale watch operators were licensed and a whale watching code of ethics was developed to help protect the whales.
Since that time whale watching operations have begun from the Gold Coast, Brisbane, the Sunshine Coast and the Whitsundays. These operations all take their passengers onto the open sea and they view migrating whales which usually spend more time under the water than on the surface. Hervey Bay has the advantage that the whales cluster together in the calm warm waters of the bay and at this stage of their migration they are interacting with other whales, mating, giving birth and feeding their young. This makes for a far better whale watching experience for the whale watcher.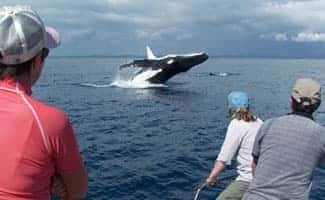 Hervey Bay also has a fleet of purpose built vessels, some with underwater windows, so that you can view the whales below the surface as well as from above. There is also has a range of excellent holiday accommodation in Hervey Bay and you can fly in direct from either Brisbane or Sydney into the Fraser Coast airport.
In far north Queensland a number of Minke whales have been observed returning to the same reefs near Lizard Island on an annual basis and they have been very inquisitive with divers on these local reefs. Several dive operators now run trips that incorporate diving with these beautiful creatures. There is no better place on the planet to go whale watching than Queensland so let's book a trip for you now.