Rainbow Beach Activities & Attractions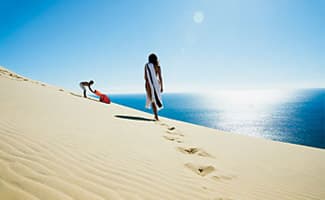 Rainbow Beach is one of the best places in Australia for great holiday activities and attractions. Whether you like to go boating, swim in the surf, go dolphin or whale watching, catch a feed of fish for dinner, hire a sailboat or a four wheel drive vehicle or visit world heritage listed National Parks, you will find that Rainbow Beach has it all and much more as well.
Fishermen have a fantastic choice of holiday activities. You can take a trip over the Wide Bay Bar to the prolific waters along the continental shelf, aboard a local fishing charter boat. You can fish the calm waters of the Great Sandy Straits or you can go surf fishing along the miles of magnificent ocean beaches in the region. Bare boat charters are available from Tin Can Bay marina and you can choose from a houseboat or sailing boat to spend a week or so cruising through this magnificent waterway. This entire region is paradise for the camper and four wheel drive enthusiast. There are some of the most challenging off road destinations available here that will compare with the best in Australia. The Freshwater Track to the south will take you to Double Island Point and Teewah Beach and to the north you can drive along the beach to Inskip Point and then take the ferry to Fraser Island where you will find some of the best four wheel driving in the world.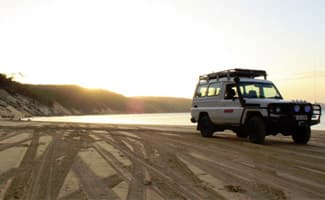 The local wild life is sensational. A pod of wild dolphins have been visiting the boat ramp at Tin Can Bay for many years and tourists can hand feed these magnificent creatures. Dugong and turtles are a common sight in the Great Sandy Straits and Hervey Bay to the north, is the whale watching capital of the world with thousands of whales visiting its calm waters every year. On Fraser Island you will see some of the purest dingoes still left in the wild. This region is a mecca for the surfing fraternity with fantastic shore breaks and is a top location when big swells are running from the southeast. A par three golf course is available at Rainbow Shores resort or visitors are always welcome at the excellent eighteen hole layout at Tin Can Bay.
If you like to fill your holiday with plenty of family activities to help entertain the kids, then there is now better place than Rainbow Beach.