Rainbow Beach Holidays with Kids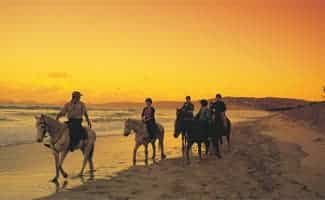 A holiday with kids should be spent in a fantastic seaside destination like Rainbow Beach. Rainbow Beach provides all the infrastructure and local attractions and activities that the kids all love and this, coupled with fantastic holiday accommodation, makes this one of the most popular family holiday destinations on the Queensland coast. Because it is only two hours drive north from Brisbane and located at the northern end of the Sunshine Coast, anyone can get to Rainbow Beach easily either by driving themselves or by public transport.
All kids love the beach, and here you will find miles and miles of the best beaches on Australia's east coast. Surfers come here from miles around to surf the local breaks which have a fantastic reputation among the surfing fraternity. Surf fishing is popular with the local gutters providing excellent catches of tailor, dart, flathead and bream. You don't need to be an expert and the kids will have a ball catching beach worms and pippi's for bait and then bringing home a tasty dinner. If you bring your own boat to Rainbow Beach, you will be able to explore and fish the entire Great Sandy Straits region. This is part of the World Heritage listed region that includes magnificent Fraser Island. Day trips to the island are also available and the kids will love to see magnificent rainforests in places like Central Station or go swimming in the purest fresh water ever seen at places like Eli Creek or Lake McKenzie.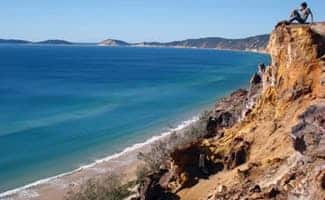 All kids love an adventure holiday and four wheel driving around Rainbow Beach and Fraser Island is some of the best in Australia. The seaside scenery is truly magnificent and local wildlife can be seen practically everywhere. At Tin Can Bay, the kids can hand feed a pod of wild dolphin that visit the local boat ramp almost every morning. On Fraser Island you will see snakes and lizards as well as the local dingos.
If you want a sensational new destination to take your kids for their annual holidays where there are often specials on offer, you could not do better than to choose Rainbow Beach.