Rainbow Beach Tours
Any Rainbow Beach holiday will be better if you take tours to see the local attractions. World heritage listed Fraser Island is close by and many different tours are available. So if you have the desire to escape the city limits or take a break from your local holiday accommodation, there will certainly be a tour to keep you occupied. Rainbow Beach touring options range from Fraser Island tours, adventure trips, city/beach tours and even dolphin feeding options.
ATTRACTIONS
Australia Zoo

Opening Hours: 9:00am to 4:30pm, 7 days a week (excluding Christmas Day)
Glass House Mountains Road, Beerwah

» Australia Zoo
The Crocodile Hunter's Australia Zoo - located an easy hour's drive North of Brisbane - offers a full day of wildlife action & adventure.
Underwater World

Opening Hours: 7 days a weekfrom 9am - 5pm. (excluding Christmas Day)
The Wharf, Parkyn Parade, Mooloolaba

» Underwater World
Marvel at the wonders of the Great Barrier Reef, gasp at a gaping crocodile, watch the otter frolic and be enchanted by the seals as they show off in their natural enclosure.
WHALE WATCHING
Whale One Mooloolaba

Departs: Mooloolaba
Glass House Mountains Road, Beerwah

» Whale One Cruises
Whale One is a spectacular vessel that boasts 20 metres of comfort, including a 360 degree observation deck and room for up to 115 guests. Valid: June to November
Brisbane Whale Watching

Departing: Redcliffe, Brisbane / Sunshine Coast pickups can be arranged
Anzac Ave (Redcliffe Jetty), Redcliffe

» Brisbane Whale Watching
Brisbane Whale Watching invites you to come on board the magnificent 'Eye-Spy' for an encounter with the whales.
DAY TOURS
Noosa Everglades with The Discovery Group

Departing: Noosa
Noosa Harbour Marine Village, Noosa

» The Discovery Group - Noosa Everglades
Experience the mystery of the Everglades, cruise the Noosa River and power down some of the best beaches in the world in a four wheel drive.
Fraser Island Tours with The Discovery Group

Departing: Noosa
Noosa Harbour Marine Village, Noosa

» The Discovery Group - Fraser Island
Jump aboard their brand new purpose built "Warrior" 20 seat 4WD and experience a great value tour of World Heritage Listed Fraser Island in air-conditioned comfort.
Blue Water Kayak Tours

Departs: Caloundra
Hamilton Close, Mooloolah Valley, Caloundra

» Blue Water Kayak Tours
Blue Water Kayak Tours are relaxing, fun and safe for the whole family, ages from 8 - 80. No experience is required, and minimal fitness is necessary.
Sunrover Expedition Tours

Departs Daily from Brisbane, Gold Coast or Noosa

» Sunrover - Fraser Island 1 Day Tour
Explore the world's largest rainforest growing in sand, Satinay & Kauri forests and Eco Boardwalk along famous Wanggoolba Creek at Central Station rainforest.
Fraser Explorer Day Tour

Depart: Rainbow Beach

» Fraser Explorer Day Tour
Do Fraser in one fun-filled day with an experienced local guide and see the best the island has to offer. Departs daily.
Gray Line Day Tours

Departing Sunshine Coast

» Gray Line Sunshine Coast Tours
Offering tours to explore the Sunshine Coast, Montville shopping, Whale Watching and Fraser Island.
OVERNIGHT TOURS
Fraser Explorer 2 Day Tour

Depart: Rainbow Beach

» Fraser Explorer 2 Day Tour
Your two days of fun and adventure on Fraser Island are led by an experienced local guide who will take you to see the very best the island has to offer.
Sunrover Expedition Overnight Tours

Departing Gold Coast, Brisbane and Noosa

Tour Options:
» Fraser Island 2 Day Tour » Fraser Island 3 Day Tour
» Fraser Island 5 Day Tour
There are also a number of whale watching tours available from Hervey bay, with groups generally spotting 30 – 50 whales in a single day. For those who are exceptionally lucky you may see up and over 100. Hervey Bay is about two hours drive to the north
There are plenty of things to see and do at your own pace, visit Carlo Sand Blow or relax with a spot of swimming or surfing. Rainbow Beach is popular for its beach fishing, bushwalking or bird watching. It's is one of the main access point for visitors to World Heritage Fraser Island with barges departing at regular intervals there are also a number of attractions in the area for you to visit at your own pace.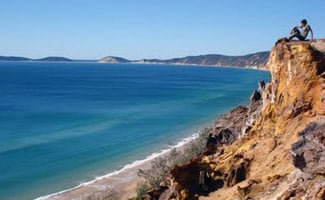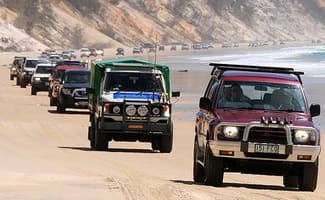 Each of the Rainbow Beach tours visit different destinations within and around the area – allowing you to gain as much experience as possible.
Car Rentals:
For those who wish to make their own tour agenda and go wherever the road takes them, as long as they have a full tank of petrol that is, Rainbow Beach Car Rentals are available from a number of reputable companies many are located in Rainbow Beach or surrounding suburbs, to make seeing and experiencing Rainbow Beach and surrounding areas a might easier. There are a few major car hire companies located in The Sunshine Coast area, each company carrying their own designated fleet.
No matter what your car rental needs Rainbow Beach Car Rental Companies will meet them, and impress you by doing so efficiently, the afore mentioned companies are just a few of the leading rental companies other such companies include Thrifty, Avis, Bargain Wheels and a few others.