Golf Holidays - Sunshine Coast Golf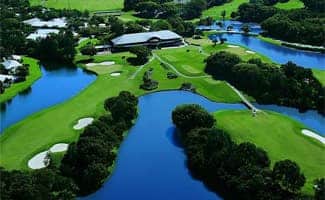 The Sunshine Coast is a golfers paradise. It doesn't matter if you live here or if you are just visiting on holidays , then bring your golf clubs with you and try out some of the superb layouts that are available. Most Australian golf clubs will welcome visitors. I should say, most Queensland golf clubs welcome visitors because many of the Victorian and New South Wales Golf clubs members will expect to be able to play when they come to Queensland for a holiday, but if you try to get a game when you go to visit them, you have a snowflakes chance in hell of getting on their courses. Not to worry though that just means that golfing junkies will continue to visit Queensland on their holidays.
There are many great golf clubs on the Sunshine Coast where you will be able to play. Caloundra has a beautiful course. A little further north around Mooloolaba and Maroochydore there are several great places to play. Headland Golf Club at Buderim has a testing layout and Horton Park in Maroochydore, are two great courses that welcome visitors. Most golfers who visit the Sunshine Coast will want to fulfil a long held desire to play on some of the best courses in the country and they can at Novotel Twin Waters or the Hyatt Coolum resort. Both of these resorts have competition standard layouts and also have packages that include accommodation and golf. The Hyatt Coolum resort is the home of the Australian PGA tournament and it is played here in early December every year.
Noosa has two fantastic golf courses where you can get a game. The Noosa Tewantin Golf club has a beautiful layout and the Noosa Springs Golf coursed is a beautiful resort style layout. Visitors are welcome at both. Throughout the Sunshine Coast you will also find a number of specialist golf shops so you can update your equipment or buy new while you are on holidays here.
The Sunshine Coast is one of the most popular places for a golf holiday in all of Queensland.