Surfers Paradise Apartments - Units - Town House - Condominium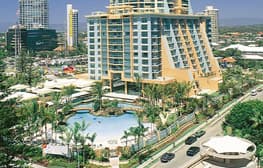 When it comes to booking apartment style accommodation on the Gold Coast, you will find that Surfers Paradise has the largest supply. Surfers Paradise has been the most popular place in Queenslanmd for developers to build resorts over the past fourty years so there are apartments of all ages and standards to choose from. In most cases, these apartments have been sold of the plan to investors on the basis that an onsite managment team will promote the apartment resort as holiday accommodation and they will manage the resort on behalf of the apartment owners. This business model is highly successful and accounts for more than 90% of the holiday accommodation available in Surfers Paradise.
There are hundreds of apartments to choose from ranging from one to three bedrooms in most of the more popular resorts as well as penthouses and studio apartments. Some of the major players in Australia's accommodation industry can be located here and names like the Mantra and Breakfree groups have a strong presence here with each having several apartment style resorts under management.If you are looking for the newest and the best resorts in Surfers Paradise, dont miss the new Mantra Circle on Caville resort or the new Sea Temple resort which is located on the corner of the Caville Avenue Mall and the Esplanade and is right on the beachfront.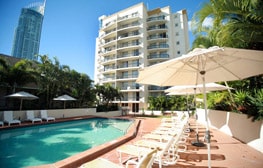 Apartment style accommodation makes the best family accommodation. It provides separate living areas and the bedrooms can provide the opportunity to put kids to bed while adults watch TV or entertain friends. it also means that the family budget can be minimised by doing all your own catering. Most of the apartments resorts in Surfers Paradise are conveniently located with the beach and mall regions within walking distance.
Surfers Paradise resorts and Apartments can be found in all the best locations in Surfers paradise. Some of the most popular are the Caville Avenue mall and along the Gold Coast esplanade overlooking the magnificent surfing beach.