Surfers Paradise Resorts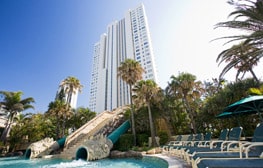 Surfers Paradise has hundreds of holiday resorts and other local accommodation types. It is one of Australia's leading family holiday destinations, because of its fantastic beaches and holiday infrastructure. The Surfers Paradise region has become the tourism hub of the of the local region and consequently has become the resort accommodation center for the region. Most of the resorts that are the most popular, have been built in the immediate vicinity of the Cavill Avenue mall and along the Surfers Paradise beachfront. Many of these resorts are now household names.
Q1 resort is the worlds highest residential tower. It climbs high above the already spectacular Gold Coast skyline and commands sensational views over the entire stretch of the Gold Coast. There is an observation deck on the 82nd level which is now one of the regions most popular tourist attractions. Q1 resort supplies some of the best luxury accommodation in Surfers Paradise.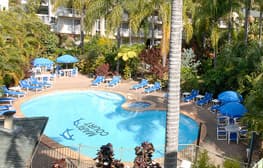 The mantra Hotels group now has a number of resort properties in the region. Mantra Legends, Mantra Crown Towers, Mantra Sun City resort, Mantra Circle on Caville resort and Mantra Wings resort are just a few of these. Breakfree resorts are similar with a number of properties. Most of these resorts have apartment style accommodation which offer specials or packages which is great for a family holiday.
If you want to stay in a great resort in Surfers Paradise, click on the link above for a full list or visit www.holiday-deals.com.au. Also check out our tours page which has everything from fishing charters to theme parks.