Information about Townsville Golf Holidays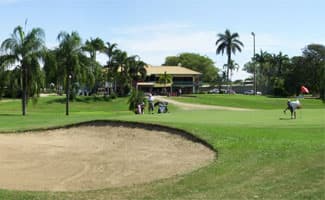 Townsville is a great place to include a game of golf in your holidayactivities. The weather through the dry season is perfect for golf with most days being sunny and around 27 degrees Celsius. The dry season lasts from late March right through to late November so anytime through this period is ideal golfing time in Townsville. There are several local courses to choose from and all of them welcome visitors. If you have an accredited AGU handicap you will also be welcome to play in local competitions.
The Townsville Golf Club has an 18 hole layout that runs along the banks of the Ross River. This is a well kept course with an excellent layout. The clubhouse is comfortable and serves meals and drinks and the elevated verandahs are a great place to sit and enjoy a quiet beer after the game. The newest course in Townsville is "The Willows" which is an excellent resort style layout. Plenty of water hazards keep the game interesting. The occasional fresh water crocodile has been known to frequent these water holes. Once again there is an excellent clubhouse and practice facilities.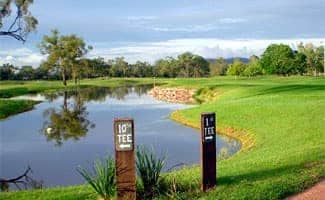 Just offshore from Townsville is Magnetic Island and it boasts an excellent rural layout with some extremely difficult holes. A very hilly terrain coupled with small greens and narrow fairways make the Magnetic Island golf Course a real challenge and one that you will really enjoy. It is only a nine hole layout but it has some great holes. The club house is very welcoming and a great place for dining out or just to enjoy a few drinks.
If you are coming to Townsville for a holiday or on a business trip don't forget your clubs and come and enjoy a game of golf in Townsville.