Whitsunday Diving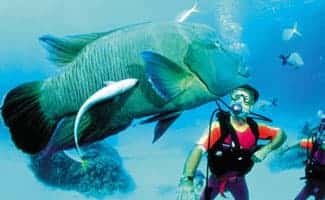 Diving in the Whitsundays region of Queensland is one of the best pastimes for holiday makers to this sensational holiday paradise. The islands of the Whitsunday Passage nearly all have fringing reefs so it is possible to go diving right from the Whitsunday Island that you choose to stay at or you can take a trip to see the Great Barrier Reef and go diving there. Fantasy Cruises and many other cruise operators run daily trips to the reef and these are available from both the mainland and the island resorts in the Whitsunday Passage alike. Many visitors choose to stay on Hamilton Island and do their diving from there. a href="http://www.qldtravel.com.au/all-queensland-islands/hamilton-island.html">You can also do a day trip with H2O sportz direct from . Most of the island resorts have their own dive shops and you can book trips to the reef through reception.
Airlie Beach is another popular destination for divers to base themselves. There are literally hundreds of dive, cruise and sailing operators running trips from here. Most backpackers come to stay in local hostels and flashpackers and then join a sailing cruise for either one, two or three days and do their diving while on that cruise. There are also a myriad dive operator's running both day and extended trips to the reef itself. The outer reaches of the Great Barrier Reef provide the best diving experiences as the closer you get to the mainland, the more the reef has been damaged by agricultural runoff. There are also plenty of opportunities to learn to dive in the Whitsunday's. Most resorts have a dive shop and offer a complete learn to dive service so that you can become accredited and then be able to dive anywhere in the world.
If you are planning your next holiday and seeing one of the wonders of the world from both above and below the surface then you should think about a Whitsunday diving holiday.