Long Island Weddings - Honeymoons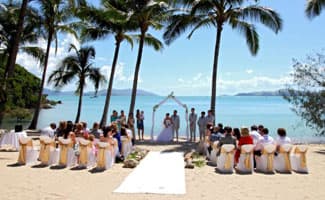 Long island is a wonderful place for a wedding. Imagine choosing to get married on golden sands at Happy Bay, with your ceremony on the beachfront. Long Island will be wonderful for your special day. The Whitsundays, Long Island resort is surrounded by beautiful tropical waters and palm fringed beaches. The resort is set amongst National Park. Happy Bay is one of the most sheltered and picturesque bays and beaches in the area.
The resort on Long Island provides a beautiful wedding or reception setting overlooking the beautiful Coral Sea at the Whitsunday Islands. Exotic butterflies and colourful rainbow lorikeets can add to the romance of this superb wedding setting. The only limit is your imagination.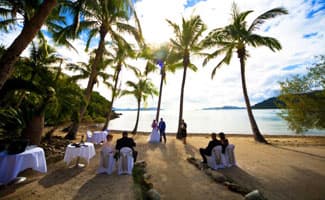 Following your ceremony on the beautiful beach, your post ceremony celebration could be held at the fantastic Sand Bar deck overlooking the Coral Sea, in the Palm Restaurant, Garden Room or for an intimate elopement in the beach gazebo. Long Island also offer affordable accommodation rates with all your meals (buffet style included) during your stay.
Get ready for the big day with Club Spa. The resort will provide you and your partner with hair, massage and beauty professionals to ensure you both look stunning and feel relaxed on your special day.
Great honeymoon packages are available to give you the choice from a scenic helicopter flight or a secluded beach picnic drop off. Enjoy champagne and a cheese and fruit platter on arrival. Long Island Weddings are well recognised as one of the best ways to host your wedding day.