Endeavour Wedding Chapel – included in base package.

The Endeavour Wedding Chapel is an idyllic setting for a traditional ceremony. Right at the water's edge, the Chapel features a floor to ceiling glass wall behind its alter, offering a spectacular panorama of the Whitsunday Passage. This view creates a stunning photographic backdrop, and is one of the features that makes the chapel their most popular and romantic ceremony location. The Endeavour Wedding Chapel also boasts its very own built-in sound system, red carpet aisle and an atmosphere of exquisite tranquility.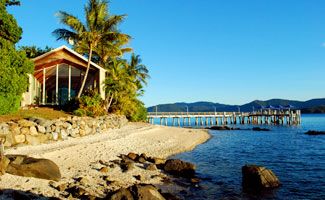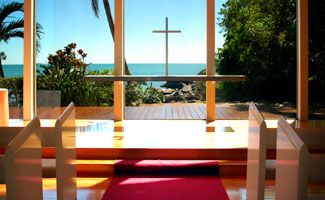 Lovers Cove
Lovers Cove is a private sheltered inlet, hosting a large deck on a white coral beach. A truly natural outdoor setting with waves rolling in just metres away and the Whitsunday Passage as your backdrop.
Mermaids Beach
Mermaids Beach is a stunning expanse of coral beach that boasts the calm, azure waters of the Coral Sea as your backdrop. Mermaids have been spotted frolicking in the waters on this beach, in fact three, who provide a unique centrepiece to the ceremony.
All outdoor ceremonies include twelve complimentary chairs and a registration table.
Suggested Add Ons…

Alter or Registry Table Floral arrangement
Chapel Pew Bows
Bubbles to blow
Post-Ceremony Champagne and Strawberries
String Quartet or Harpist
(prices on application)

Suggested Ceremony Times…

Mid-Morning – 11.00am
Lunch – 1.00pm
Early Afternoon – 3.00pm
Afternoon with sunset – 5.00pm
Dusk, by candlelight – 6.30pm (additional $75 fee)
* Same prices apply on weekdays and weekends.