Hair & Make-up
On the Day – Hair and Make-Up
Their talented beauty therapists and hairdresser will ensure you are looking your absolute best. The beautifully soothing environment of the Rejuvenation Spa is a must for all brides who are ready to be pampered on their special day. Brides hair and make-up are included in the Indulgence Wedding Package*.
*Conditions apply to hair and make-up inclusion, includes a pre-arrival phone consultation with your stylist. Please feel free to email or post a photo of your dream style. Hair and makeup trials available.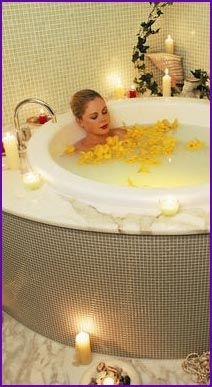 For the Bride…
Mermaids Dream (4 hours – including lunch)
Coral Sea Renewal (2.5 hours)
For Her (3 hours)
High Performance Facial (1.5 hours)
Manicures (1 hour)
Manicures with a Parafin Wax (1 hour)
Pedicure (1 hour)
Pedicure with a Parafin Wax (1 hour)
Lip & Eye treatments (30 mins)
Fantasy Spray Tan (30 min – inc full body exfoliation)
Waxing & tinting available
Eylash extensions available
For the Groom…
For him (3 hours)
Oceana Bliss (2 hours)
Mens Caviar Facial (1.5 hours)
Flower Girls…
Little Princess Package (1 hour)
* All prices are are available on appication
Bouquet & Flowers
Their florists specialise in traditional, exotic and unique floral arrangements, and can design special arrangements to your request or copy elements from a range of photographs.
Seasonal Bridal Bouquet
Seasonal Bridesmaid Bouquet
Buttonholes
Corsages
Long and low bridal table floral arrangement
Guest table floral arrangement
Rose petals strewn on tables
Flowers placed in the sash on the back of the chair
Pedestal floral arrangements
* All prices are available on application (Flowers are subject to seasonal availability)
Entertainments Options
Music may be the food of love but it's also an integral ingredient for any memorable night. Live music, DJ or Jukebox; they will organise the appropriate artists that are guaranteed to bring pleasure to your ears.
Professional Disc Jockey


Your DJ will play a selection of music for up to 5 hours to entertain you and your guests, including a mixture of your favourites as requested by yourself, prior to the evening. Plus exciting lighting effects to add a little extra 'party' mood to the dance floor.

Jukebox

 – (mainstream, alternative or themed)

Professional PA System

 (with 5 stacker CD Player)

Solo Artists from

Two to Four piece bands
*Accommodation and Meal requirements for Entertainers are an additional cost.
Wedding Cake
The Wedding Cake is a very personal and individual choice. Their supplier specializes in both modern and traditional wedding cakes. (Prices are subject to change)
Webcam
Daydream Island Resort and Spa features the only Chapel in the Whitsundays with the capability to broadcast a wedding live via our satellite broadband connection. Their state of the art webcam offers a live broadcast, with full audio, of your wedding ceremony to your family and friends anywhere in the world. Loved ones will be enchanted watching the bride walk down the aisle, they will share the emotion as you exchange wedding vows and be captivated as you are signing the register, and experiencing your first moments as husband and wife.
Decoration
Decorations can add to the atmosphere and can be a simple addition that creates style and magic for your wedding.
Your co-ordinator would be happy to discuss further decoration and theming ideas with you.
Chair Covers with sash
Table Runners
Daydream Island Place Cards
Personalised Menus
Disposable Wedding Camera
Bridal table floral arrangement
Guest table floral arrangement
Rose petals strewn on tables
Flowers placed in sash on back of the chair
Pedestal floral arrangements
Float bowls with candles and flowers
Hurricane Lantern with Pillar Candle

with Floral Wreath
Bridal Table Backdrop
* All prices are are available on application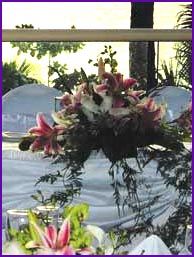 Wedding Photography
Their professional wedding photographers will deliver a comprehensive service to accommodate every aspect of your special day. All weddings are shot on digital.
Option 1
Up to three hour wedding photography including:
All photographs supplied as 6 x 4 prints
CD containing all image files in low resolution
9" Leather Album containing twenty-four 6 x 8 enlargements mounted and digitally enhanced
Option 2
12" Square metal album package:
300 (6" x 4") hard copy images
CD of up to 300 images in low resolution (printable up to 6" x 4")
Approximately 50 mixed size images of your choice
DVD high resolution slide show of all images to music
(Please Note: A Licensing fee of $250 does apply if you wish to use an external photographer)
Please Note: Daydream Island Resort and Spa acts as an agent for Photography and Video and therefore Total Weddings, the contractor, holds all responsibility for their services.
Wedding Video
Orchid Package
Includes footage of the Groom waiting at the chapel, Bride arriving at the ceremony, the wedding ceremony, and photo shoot after the ceremony. Includes:
Frangipani Package (Full day production)
Includes footage of pre-wedding events, Bride getting ready (Hair and Make-up), Groom getting ready, Groom
waiting at the chapel, Bride arriving at the ceremony, the ceremony, photo shoot after the ceremony, and reception
(including speeches, cake and bridal waltz). Includes:
Wedding Clip Edit (highlights edited to your favourite song)
1 Edited version on DVD
3 Gift edition wedding clips on DVD
Accommodation for the photographer is additional (wedding guest rate applies)
(Please note: A licensing fee of $250 does apply if you wish to use an external videographer)
Accommodation and meals must be provided when booking any package which requires an overnight stay on the Island