Australia's ultimate honeymoon destination has to be Hayman Island. The most special holiday and celebratory period of your life deserves to be spent at Australia's most exclusive and luxurious island resort. No other resort in Australia can compare with the experience you will enjoy if you decide to spend your honeymoon days at beautiful Hayman Island.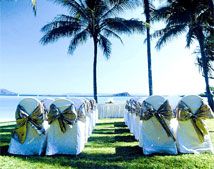 From the time you arrive you will begin an unforgettable experience. The quality of the accommodation is in a class of its own. You can immerse youself in a marble palace with every subtle convenience you can imagine. All rooms have magnificent views. Some have direct beach access and privacy here is legend. The service at Hayman Island is also without equal and you can be sure that you will enjoy your honeymoon while being treated like royalty. Room service is available or you can choose to dine out at any of the superb restaurants for which the resort is famous.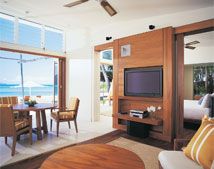 Hayman Island is surrounded by some of the most beautiful gardens in the world. They have been designed and built without worrying about the expense, by leading garden designer, Jamie Drury. The gardens surround the resort and the superb lagoon style swimming pools. At Hayman you can hide away with your new partner or join the other guests relaxing among the resorts beautiful facilities. Many couple choose to have there nuptial celebrations here and then continue on for their honeymoon.