Weddings at Queensland Islands and resorts
You will always remember your Queensland Island resort wedding as one of the best days of your life. The bulk of the island resorts in Queensland have built a specialist wedding industry to help take the pain and frustration out of making all the necessary arrangements for your wedding day. Most of the resorts now employ a dedicated wedding planner who will initially provide you with all of the information that you will need to make your decisions and then will take over the responsibility of seeing that all of the details are attended to. If you have someone to help organise, the ceremony, the celebrant, the flowers, the wedding cars, the chapel, the hair and beauty treatments, the reception and the honeymoon then you have nothing left to do but enjoy the day.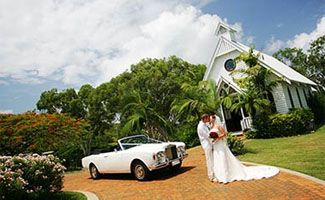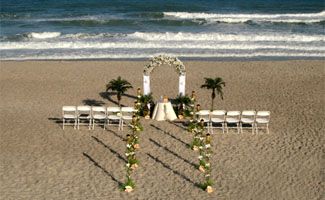 A Whitsunday Islands wedding is now the most popular in Queensland. Hamilton Island wedding services are second to none. There is a superb chapel set high on the hilltop with panoramic views over the Coral Sea and the Whitsunday Passage. There are seven or eight different locations for your reception and the best thing of all is that you and your guests can fly in direct from almost anywhere in Australia and stay in top quality accommodation and also have a wide range of standards and styles. Another advantage of an island resort wedding is that it is easier to manage the guest list to those who you really do want to come. Hayman Island weddings are also extremely well catered for and here and also at Daydream Island you will find similar facilities to those at Hamilton Island. Brampton Island and Long Island are also popular Whitsunday Island wedding destinations.
A North Queensland wedding is another popular choice. Places like Mission Beach, Dunk Island and Cairns are all commonly used. A Port Douglas wedding or a Palm Cove or Daintree rainforest wedding are also popular choices. Port Douglas is probably the most popular as there is a huge range of luxury resorts to choose from and there are plenty of different facilities on offer. The St Mary's chapel on the estuary in Port Douglas is one of Queensland's most popular wedding ceremony locations.
Planning your wedding day and all of the associated celebrations can be really hard if you are not close to what is going on and experienced in making all the arrangements. We can assist you to have a trouble free Queensland Island resort wedding that you will always remember.
Other Queensland Wedding Options

Mainland Options

Island Options