There are approximately $2.73 billion in development projects currently committed or under construction in Whitsundays. The following Whitsunday Developments list includes some of the significant current developments in the Whitsunday Shire:
Peppers Coral Coast Beach Resort: This Latitude Development Group project is currently under construction with expected completion set for 2009. This $140 million project will feature 121 five star apartments, 11 penthouses, a conference centre, and retail facilities.
Port of Airlie Marina Development: The $500 million Port of Airlie Marina Development includes the construction of a 240-berth marina, ferry and cruise terminal, a public boat ramp, a village square, and 510 residences (resort style and standard apartments, and houses).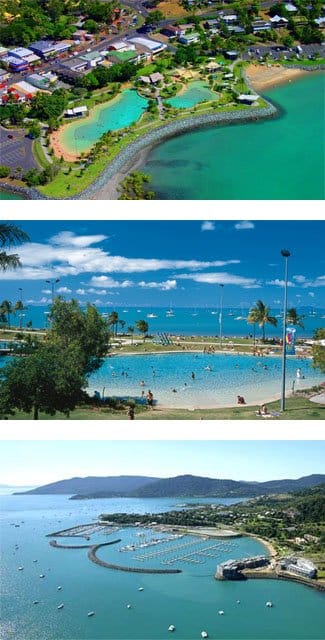 Energy Supply Cannonvale/Jubilee Pocket: Ergon Energy is currently constructing a $19 million upgrade of energy infrastructure in the Whitsunday Shire to reinforce the current energy supply to Airlie Beach.
Whisper Bay at Airlie Beach: The $282 million project includes 98 three bedroom / study villas and apartments and six four bedroom penthouses. Many of the homes will have their own swimming pool, with two communal swimming pools available to service the other residents.
Dent Island Golf Course Resort: The $300 million project that is expected to occur in four development stages. Stage 1 ($25 million) is currently under construction and includes developing an international standard golf course, club house and a range of luxury homes and villas.
390 Shute Harbour Road: Projectworx has committed $40 million to the construction of a 1,500 square metre arcade style retail centre, with 26 apartments over five levels.
Crystalline Shores: This $35 million themed resort development is currently under construction. The project includes the building of 55 villas and a main resort building, which will house a health spa, sauna, gym, and delicatessen.
Clough Group: This $200 million development consist of a thousand residential lots in Cannonvale.
Funnel Bay: A $500 million project located in landmark proximity to Whitsunday National Parks, 1.2 km of beachfront and with scenic views to the North of the Whitsunday Islands. The project will include the construction of a 200-room hotel and 400 apartments.
Whitsunday Airport Park: This $75 million Jeffery Ruddell development is currently under construction and will provide 90 hanger homes for small aircraft owners, an asphalt sealed runway, taxiways, a commercial precinct and conference and meeting facilities.
PGA Whitsunday: This Links Living $700 million project will include the construction of 2,500 mixed density dwellings, including a hotel, apartments, and a golf course (Stage 1, 200 room hotel village centre and 50 land lots, $200 million).
The Whitsunday development are extensive and always ongoing, so that they can make this wonderful part of Australia even more perfect…. if that is possible!