Australian Day Tours Byron Bay

Standing on a bald rocky headland with a precipitous cliff on the east side, and a sheer drop of approximately 100 metres, Cape Byron Lighthouse is the most easterly light in Australia, and one of the most powerful.
Byron Bay famous not only for its position as Australia's most easterly mainland point but also as the "alternate lifestyle" capital of Australia. Meet the locals, soak up the atmosphere.
If some retail therapy is necessary, there is a great range of original crafts, clothing and gift ideas. Have lunch (own expense) in one of the local cafes, the beachfront pub or have take away by the beach.
In the afternoon we stop into Tropical Fruit World. This 5th generation family farm is home to some of Australia and the worlds most exotic fruit. It boasts the best Fruit parfaits around, after all Tropical Fruit is what they do!
Some of the Highlights
Enjoy spectacular views to Mt Warning
Stand on the edge of Australia
During the winter months you may see whales making their annual migration north
Enjoy the ever changing contrast of mountains and beaches as the tour takes you through some of the most picturesque scenery in Northern NSW
Opportunity for swimming at the beautiful Byron Bay beach
We have a brief stop at Superbee Honeyworld. A chance to sample up to 15 varities of local honey
Tropical Fruit World – a chance to purchase exotic and local fruits as well as natural products such as Tea Tree and Avocado oils and soaps.
TOUR HIGHLIGHTS
Cape Byron Lighthouse
Mt Warning Views
Byron Bay Township
Superbee Honeyworld
Spectacular Rainforest
Tropical Fruit World
See whales in season
Australia's most Easterly point
Mighty Tweed River
Cape Byron Trust fees included
Chocolate Factory
Honey Tasting
Chocolate Tasting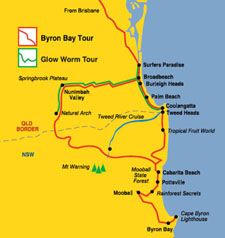 BYRON BAY AND TROPICAL FRUIT WORLD

DAILY

 

ADULT

$102

INFANT (1-2yr)

$0

 

CHILD

$63

 
 
 

TOUR G36

departs Gold Coast 8.45am

returns 6.00pm

 

Includes:

Byron Bay, Tropical Fruit World and National Park Fees (option of eco cruise)

 
 
 
 
 
BYRON BAY AND TROPICAL FRUIT WORLD + LUNCH

DAILY

 

ADULT

$127

INFANT (1-2yr)

$0

 

CHILD

$73

 
 
 

TOUR G36L

departs Gold Coast 8.00am

returns 4.30pm

 

Includes:

Lunch at Crystal Castle, Tropical Fruit World

 
 
 
 
 
Rates Subject To Change