Property Information
Cardwell
Situated halfway between Townsville and Cairns, Port Hinchinbrook is the gateway to Hinchinbrook Island and everything the Hinchinbrook area has to offer…
…Untamed wilderness, superb beaches, deserted islands and the Great Barrier Reef, not to mention possibly the best fishing and boating opportunities in Australia.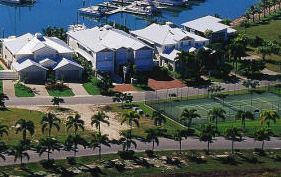 Dining
Superb meals are available for breakfast, lunch and dinner seven days a week at our spectacular waterfront Marina Restaurant and Endeavour Bar which is also a maritime museum with binnacle, ships wheels, a 100 year old air pump for divers, navigation lights and magnificent wood carving. The Endeavour carving is 3.4 metres x 2.7 metres.
The restaurant is situated within the central marina complex and guests are invited to experience the relaxed atmosphere on the boardwalk, watching the boats dock and depart while they enjoy their meal – the setting is simply magic.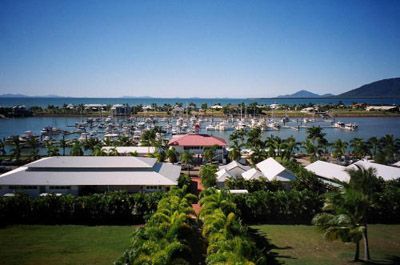 Leisure
Port Hinchinbrook offers a wide variety of activities both within the resort and beyond to Hinchinbrook Island and the Great Barrier Reef.
FREEFORM SWIMMING POOL
You will love our magnificent pool. Set in a lush tropical jungle, it's the perfect spot to unwind.
TENNIS COURT
Enjoy a friendly game.
FISHING
Great opportunities await you. There are many great spots where it is possible to catch the 'Big One' from Barra to Black Marlin. Try our game fishing charter vessel "Black Magic".
WHITE WATER RAFTING
The best in Australia. Tully Gorge is 1 hour drive from Cardwell.
SNORKELLING & DIVING
Excursions to Brooke Island and the Great Barrier Reef. Learn to dive lessons are also available.
GOLF
Until Port Hinchinbrook builds its very own 18 hole golf course (2009), you can enjoy the picturesque Cardwell Country club 9 hole course which is 1km from our entrance. Golf buggies are available and visitors are welcome.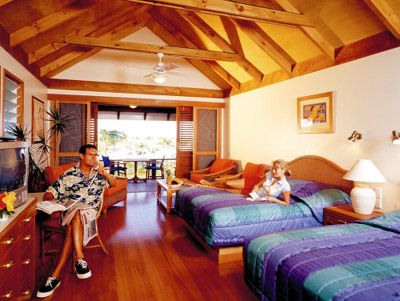 Conference & Weddings
Port Hinchinbrook is fast becoming a popular destination for corporate conferences and incentive groups. With all the conference facilities that can be found at traditional hotel destinations, Port Hinchinbrook provides an ideal setting for corporate groups without the city distractions, allowing you to maximise conference effectiveness and outcomes.
Would you like to say 'yes' in their purpose built over water gazebo which adjoins their popular Marina Restaurant? Have a barefoot ceremony on the beach at a nearby Island? Or say 'I do' at sunset aboard a charter boat? Consider the "Hinchinbrook Explorer", able to cater for 250 guests.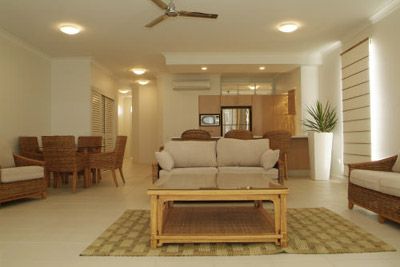 Accommodation Information:
FRONT STREET CABINS
The Front Street Cabins allow you to enjoy easy access to Port Hinchinbrook Resort facilities. The Front Street Cabins feature timber floors and high-pitched roofs with exposed timber beams. Each Cabin has twin queen sized beds, is fully air-conditioned, and boasts a substantial bathroom.
WATERFRONT SUITES
The Port Hinchinbrook Waterfront Suites offer guests absolute privacy and comfort with their private decks overlooking the marina. Each suite has access to its own private outdoor therapy spa and shower that are beautifully concealed amid the tropical flora and fauna of Port Hinchinbrook.