Queensland is one of the best places in the world for a diving holiday. As Queensland is the home of the Great Barrier Reef, diving lovers from all over the world flock here to experience the beauty of the world largest living thing. There are also many other dive attractions like wreck diving on the Sunshine Coast and off Townsville. It is also a fabulous place to learn to dive with resorts everywhere and dive schools all offering learn to dive courses. There are many companies that operate dive cruises. Some of these are day trips and others will take you on extended dive holidays. Companies like Mike Ball Dive expeditions will take you to pristine reefs miles away from the closer and more regularly dived sites.
Cairns in Queensland's north is the home of Australia's dive industry. Many cairns diving companies operate from here and there is so much to choose from. You can do a day trip to the close reefs around Green Island or the Low Isles or you can take an extended trip to the outer Coral Sea or to the northern sections of the reef around Lizard Island. Here you will find famous dive sites like the Ribbon Reefs and the Cod Hole, where giant Potato Cod come up to swim and interact with the divers. For the adventurous diver looking for a real adrenaline rush you can even take part in a shark feeding dive. The Whitsunday Islands are also a fantastic place for a diving holiday. You can stay in a great resort like Hamilton Island and then do your diving from there.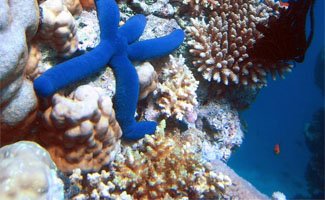 Further to the south Heron Island and Lady Elliot Island both cater to the dive lover wanting to enjoy their sport. These two islands are both true coral atolls and are situated right on the reef itself. Both have excellent dive and accommodation packages and the water clarity here is generally the best on the reef. This is because these two islands are further from shore and have had less impact from farming runoff. The coral on this section of the Great Barrier Reef is also generally considered to be the best on the reef. The Whitsundays region is also one of the best places to take a diving holiday.
There are literally hundreds of diving opportunities in Queensland so now is the best time to book your holiday.