Holiday activities on the Sunshine Coast are wide and varied. The natural attractions are dominated by the dozens of fabulous surfing beaches that provide an almost continuous surf front from Caloundra in the south right through to Rainbow Beach in the north. Some of the beaches along this coastal strip are ranked among the best in the country. Mooloolaba, Maroochydore and Noosa are magnets to the surfing fraternity and when there is a big surf running, surfers arrive from miles around to have some fun. The Sunshine Coast hinterland is full of holiday activities. The Maleny district has lots to offer with magnificent coastal views, rainforest parks and quaint local towns with great souvenir shopping, and excellent local cafes and restaurants. The Eumundi Markets are among the best you will find with lots of country produce and crafts on display.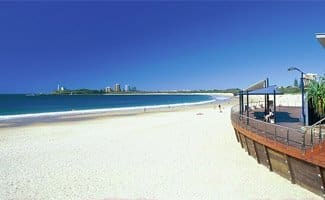 Man made activities are common and some of Australia's most popular can be found here. The late Steve Irwin built Australia Zoo here and his legacy now lives on with his family running this fantastic attraction. The Zoo has expanded from its beginnings as a crocodile park to now being a full on zoo with hundreds of attractions. The main drawcard, though, is still the crocodiles. Underwater world is at Mooloolaba on the harbour front and this is one of Australia's best aquariums. Activities here include swimming with sharks, seal displays and hundreds of aquarium displays and touch tanks. It is located only walking distance from the Mooloolaba beach and marinas. This complex also includes a shopping precinct with a definite holiday atmosphere.
The Sunshine Coast is famous for its shopping with plaza style shopping centers at Kawana, Maroochydore and Noosa that will provide for your every need. The restaurant and café scene is also very well represented. The Sunshine Coast is a great destination for a golf holiday with over twenty excellent courses to try. Some of these are recognised as being among the best in the country. Other activities on the Sunshine Coast include swimming, diving, fishing,whale watching, hot air balloon rides and skydiving.
The Sunshine Coast has enough holiday activities to keep the entire family happy.
Contact Us For All Of Your Travel & Holiday Needs.