Airlie Beach - Backpackers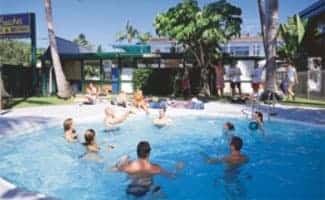 Airlie Beach backpacker accommodation in many ways leaves a lot to be desired. Most of the properties are old and few are well maintained. Airlie Beach is one of the most popular destinations in Australia for backpackers to visit and it is a shame that quality accommodation is hard to find. Airlie beach is one of the icons of the Australian backpacker circuit destinations as everyone wants to spend some time on a yacht or charter boat cruising the fabulous Whitsunday passage or scuba diving on the outer barrier reef. Fortunately the quality of the charter boats available in the Whitsundays is top of the range in most cases. We recommend Whitsundays Sailing Adventures who have over 20 quality boats to choose from, Barefoot cruises, and Anaconda as all of these companies are professional operations offering top quality boats, itinerary's and inclusions.
For budget accommodation in Airlie beach we recommend Beaches Backpackers and Whitsunday Wanderers resort which both boast a fabulous location in the main street of Airlie beach with close proximity to swimming pools, shops, restaurants and cafes. The village like atmosphere of Airlie Beach brings everyone together in a party like atmosphere. Airlie beach can be accessed by coach or by air through Whitsunday airport at Proserpine or Great Barrier Reef airport on Hamilton Island. Some of the Whitsunday island resorts are also popular with backpackers and Club Crocodile Resort, Long Island and South Molle are among these. If you are travelling through Queensland you should also see our Magnetic Island backpacker page and our whitsunday backpacker page.
There are many things to see and do around the Whitsundays and you will find lots of information in this website on tours, backpacker accommodation and sailing adventures. There are usually some specials available in the area and when there are they are displayed on our specials website at www.holiday-deals.com.au If you need to speak to one of our consultants you can call our freecall number 1800 815 378 if you are in Australia or international +61 7 4128 6607 or just send us an email.
Backpackers in Airlie Beach: