Airlie Beach Resorts - Holiday Beach hotels & resorts
Airlie Beach is home to some of Queensland's finest resorts and the nearby hinterland and the Whitsunday island region provide a multitude of activities to ensure the success of any holiday.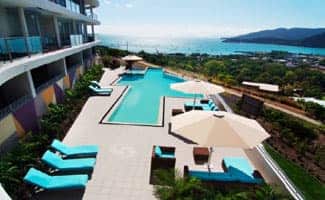 The Marina is the jumping off point for Airlie's renowned sailing adventures and here there are literally hundreds of boats to choose from for your day or extended trip. Some of Australia's most famous yachts are now to be found here providing you with the opportunity to experience some of the most exhilarating sailing in the world and the opportunity to do it in an area that is famous for its spectacular beauty. There are some fabulous companies operating here such as Whitsundays Sailing Adventures, Fantasy Cruises and Barefoot Cruises.

Airlie beach is also famous for the quality of its resorts and there is always a supply of new ones coming on the market. Some of the favourites here include Coral Sea Resort, Whitsunday Terraces Resort, Mediterranean Resort, Sea Star Apartments, Toscana Village Resort and Club Crocodile Airlie Beach. Some of the more recent additions include Portside Resort, Whitsunday Vista Resort, Toscana Resort, Waters Edge Resort and Boathaven resort. These magnificent properties all offer a wide range of facilities to help make your stay a most memorable one and they are all located close to the main town area. Most are within walking distance.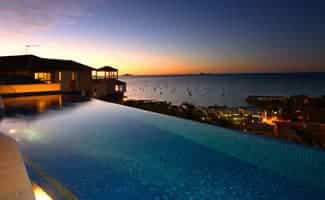 Airlie Beach is the jumping off point for the island resorts in the Whitsunday Passage and here there is a choice of some of Australia's most famous island resorts. The standard ranges from one of the worlds most luxurious resorts on Hayman Island through the delightfully laid back atmosphere of Daydream Island with its famous day spa facilities through the cosmopolitan atmosphere of Hamilton Island. Brampton Island gives a relaxed ambience for the family or international traveller and Long Island provides the luxury of the Peppers Resort or the alternative family resort of Club Crocodile.

This region is easily access from anywhere in Australia. You can fly to Whitsunday Airport at Proserpine or direct to the Great Barrier Reef Airport on Hamilton Island. Ferry connections with Blue Ferries are available to Airlie beach or most Island Resorts. If you would like to speak to one of our helpful consultants about which of the beautiful Airlie Beach resorts would be right for you, then you can call our Australian freecall number 1800 815 378 or international +61 7 4128 6607 or send us an email.




Resorts in Airlie Beach: