Booking information for Cairns Holiday Accommodation - Hotels, Resorts and Apartments
Hundreds of thousands of international visitors come to north Queensland every year and stay in Cairns accommodation. Cairns is on almost every Australian visitors radar because of its proximity to the Great Barrier Reef and the world heritage listed rainforests in the region. People from all walks of life come to Cairns to stay, during their holidays, so accommodation for all requirements is available. There are a number of popular places to stay within the Cairns region. The first of these is the Cairns CBD. Here you will find everything from dozens of backpacker lodges and hostels, apartment style resorts and international hotels. The backpacker industry in Cairns is huge as tens of thousands of young people come here to dive and snorkel on the reef and there are a multitude of dive schools together with charter boats that cater for all levels of scuba diving competency.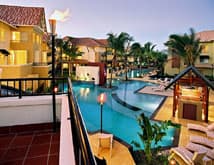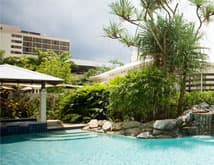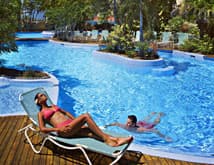 These hostels are located throughout the city and range from boarding house accommodation, right through to flashpackers with entertainment, huge swimming pools and barbeque areas. Most families are looking for self catering accommodation and fully managed and serviced holiday apartments are ideal for them. The Cairns esplanade is an ideal place to look for this style of accommodation. Prices on the esplanade are higher and less expensive alternatives are readily available, if you don't mind going back a street or two from the waterfront. International hotels can be found throughout the city. The higher standard, and generally, the most sought after of these, are located close to the marina precinct. Some of these are right on the waterfront and overlook the comings and goings of the Cairns charter boat industry. There are also several very popular family resorts situated a short distance from the Cairns CBD and these tend to provide a completely holistic approach to family holidays with organised activities, in house restaurants and superb family facilities.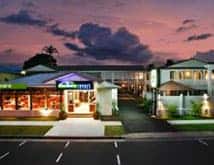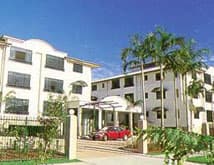 To the north of the city are the Cairns Beaches. These comprise Machans Beach, Yorkeys Knob, Trinty Beach, Clifton Beach, Palm Cove and Ellis Beach. Many tourists like to stay here as fine resorts located right on the beachfront provide the total accommodation and relaxation package. These beach front suburbs tend to offer that boutique resort and dining atmosphere that most people find so appealing. Health spa's, golfing resorts and fully integrated luxury hotels can all be found in this region. The atmosphere here is eclectic with many alfresco restaurants and cafes set on the edge of golden beaches overlooking the Coral Sea. There are also island resorts within easy reach of Cairns. The best known of these are Green Island resort and Lizard Island resort and there are several others. These provide access to the Great Barrier Reef as well as a five star accommodation experience. Any tourist coming to stay in Cairns will be able to find accommodation where the price is right for the standard of accommodation that is being offered.