Accommodation on Hamilton Island
Hamilton Island accommodation comes in both hotel and self contained configurations. Hotel style accommodation includes the Palm Terrace, Palm Bungalows, Reef View hotel and Beach Club hotel depending on the required standard. The self contained accommodation includes one and two bedroom resortside apartments, standard villas, superior villas, deluxe villas and the luxury collection. There are also a myriad of activities and tours that can be accessed from the island. Cruise Whitsundays operate daily to the colourful coral Reef and many other operators provide access to the other islands and such attractions as Whitehaven beach. Hamilton Island can be accessed directly by air or by ferry from Airlie Beach.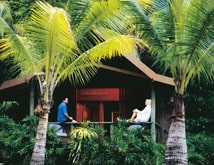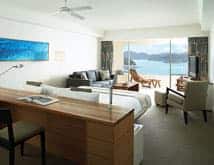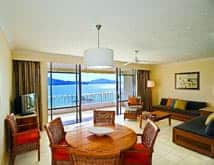 Self catering family accommodation is located on both the resort side and the marina side of the island. One and two bedroom resort side apartments are available in the Whitsunday holiday apartments that are in a high rise building and located within walking distance of Catseye beach, pools and resort centre. The Whitsunday holiday apartments have fantastic views northward towards Whitsunday Island. Other apartments on the marina side offer a choice of one, two or three bedrooms, kitchen lounge and dining area, and a large furnished balcony.The superior villas offer a choice of one, two, three, and four bedrooms. nearly all of these have great views over the marina or across the bay towards Dent Island and the Hamilton Island Golf course.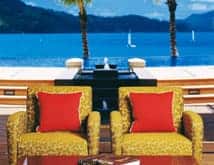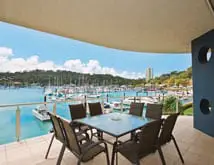 qualia resort and the new Hamilton Island Yacht Club villas provide the highest quality accommodation of any of the Whitsunday Island resorts. qualia is situated on the northern tip of the island and consists of private individual pavilions built right along the coastline and each one having its own water view. qualia does not allow children so if you are looking for the same standard of accommodation and you want to bring your kids, then choose the new Yacht Club Villas which are situated on the north side of the marina and beside the new Yacht Club itself. The luxury collection are modern three bedroom villas located on the southern marina foreshore. These villas are designed to provide an unprecedented opportunity to relax in lavish waterfront living. This is the ultimate Hamilton Island accommodation.