You've heard the saying, 'there's something for everyone', but Hamilton Island does fine dining as well as it does fish and chips. There's no 'I'm over the resort restaurant already' here, because there are almost as many eating options as you would expect to find on the mainland. Uniting factors across all the dining spots on Hamilton Island? Welcoming service, a fuss-free aesthetic and excellent food.
KIDS EAT FREE
On Hamilton Island we have plenty of restaurants that can handle even the biggest 'little' appetite. Kids 0 – 14 years eat for free when dining with parents and selecting from the Kid's menu. Participating restaurants include The Pool Terrace Restaurant (breakfast, lunch and dinner), Hamilton Island Wildlife Park (breakfast) Manta Ray Cafe (lunch and dinner), Red Emperor (dinner only), Steakhouse (dinner only) and Sails Restaurant (breakfast,lunch and dinner).
ROMANO'S ITALIAN RESTAURANT
'Waterfront Italian'. Romano's overlooks the marina and offers fantastic Italian fare and a fresh seafood menu that changes daily. It has a lively and fun atmosphere. Whether you're with a group or dining as a couple, Romano's is sure to be a favourite.
BEACH HOUSE
The award-winning Beach House restaurant with its absolute beachfront location, is what Hamilton Island is all about. Enjoy a beautiful setting, relaxed atmosphere and modern Australian cuisine.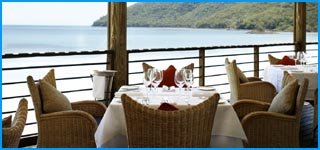 STEAKHOUSE
Steakhouse sources premium quality meat from regional areas of Australia with cuts including sirloin and Angus export rib fillet. Offering a relaxed atmosphere this is a great option after a big day at the reef where you'll have worked up an appetite.
KIDS EAT FREE (dinner only).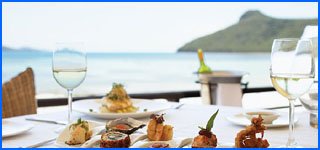 MANTA RAY CAFE
'Pizza By Design'. This restaurant is a favourite with guests and locals. Located in the Marina Village, Manta Ray offers a huge menu of delicious gourmet woodfired pizzas, pastas, salads and much more.
KIDS EAT FREE (lunch and dinner)

SAILS RESTAURANT
'Great fun, great food, great view'. The hub of Hamilton Island overlooking Catseye Beach. Enjoy a poolside breakfast, lunch, dinner or snack. A great venue for some late night jazz or a local band. KIDS EAT FREE (breakfast, lunch and dinner)

MARINA DELI
Marina Deli in the heart of the Marina Village enjoys a relaxed, layed back atmosphere with a casual gourmet menu to match, including fresh paninis, foccacias and wraps. Enjoy take away or dine in with views out to the marina.
THE POOL TERRACE RESTAURANT
Located on the ground floor of the Reef View Hotel and overlooking the Reef View pool, The Pool Terrace Restaurant offers a fantastic buffet breakfast as well as a delicious lunchtime snack menu and a la carte dinner. KIDS EAT FREE (breakfast, lunch and dinner)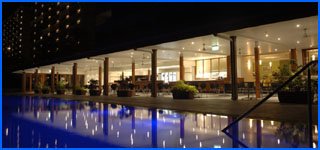 MARINERS
Located in the heart of the Marina Village, this well known restaurant will afford you stunning views of the marina while enjoying a menu that offers not only the freshest seafood but also an array of contemporary dishes including juicy duck and succulent eye fillet.
DENISON STAR DINNER CRUISE
Enjoy canapes & drinks on the sundeck of this 107 ft timber vessel and a cruise through the Whitsundays. After dark the boat will moor at a calm secluded spot so you can enjoy a 4 course meal before finishing with a late cocktail and some stargazing on the upper deck as you cruise home.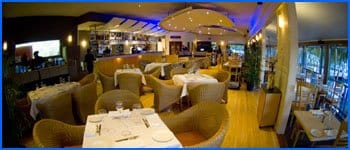 BREAKFAST WITH THE KOALAS
This is a unique and very popular dining option – The Hamilton Island Wildlife Park located in the heart of the resort, offers a delicious breakfast and afterwards, you can cuddle a koala. Lots of fun and the kids will never forget it. KIDS EAT FREE (breakfast only)
TAKEAWAY OUTLETS
You don't always have to eat in. Visit the Marina Deli for gourmet sandwiches, rolls, good coffee, smoothies or juices. Or Popeye's for fish & chips, fresh salad and seafood or Hamilton Island's Bakery for fresh bread, pastries and cakes.
BARS
Try the Marina Tavern for a beer over the marina, the Island Bar for a cocktail in the main pool, the Bougainvillaea Bar for poolside snacks, Sails Restaurant for a relaxed afternoon beverage, Bohemes Bar &Nightclub for late night dancing or the Reef Lounge for pre-dinner drinks.