Bargara Resorts
In Bargara and its surrounding areas you will find some beautifully appointed rooms at a number of resorts that you can book into for your next holiday. Perfect for couples, families, business people and backpackers, you are all assured to find the idea room to suite your taste, style, needs and most importantly.... Your budget!
Bargara is located in the Coral Coast region on the east coast of Queensland just east of the city of Bundaberg. There are a number of ways in which you can access this desirable holiday destination, which include self driving, train, air or by water. With it being a very easy drive from Brisbane as around 4 hours to the north and 3 hours south of Rockhampton the main highway is always a popular choice for many travellers. But you can also choose from fly into the Bundaberg Airport or travel by train which will drop you directly at the main train station in Bundaberg, and from here you can easily organise a shuttle bus to transfer you. The port of Bundaberg holds many moorings for people who have their own boat which you are able to utilise for your stop over.
Bargara is blessed with stunning coastlines, beautiful climate all year round, golden sandy beaches and a relaxed atmosphere that is hard to ignore. Once you arrive it is not hard to see why it is quickly becoming one of the favourite destinations in Queensland to visit for both interstate and overseas travellers.
With the Great Barrier Reef just off shore, passing migrating whales, neighbouring islands, crystal blue ocean waters and rivers to enjoy there is a whole other world just waiting for you at Bargara. While you are here you can enjoy snorkelling, diving, cruises, sailing and boating, fishing, scenic flights, skydiving, turtle hatching, sun baking, swimming, water sports galore, picnic grounds and BBQ areas, shopping and dining just to name a few.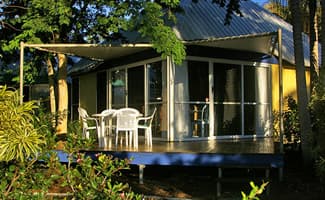 The nearby city of Bundaberg is also another draw card for Bargara as you can have the tranquillity and peacefulness for your holiday but still have city living at your fingertips. With its many shopping precincts, dining and entertainment.... you really can have the best of both worlds!
Not only is there a selection of resorts in Bargara you may also like to check out the wonderful holiday rooms at one of the hotels, motels or perhaps even a spacious apartments so that you can have some room to move.... especially if you have kids! No matter what kind of local holiday accommodation you are after you are bound to find it here.
So why don't you pick up the phone to speak with any of our staff members, so that they can begin to arrange your resort accommodation for your fabulous holiday to the beautiful destination of Bargara.