Brisbane - Tourism - Holidays - Travel
The city of Brisbane is the third largest in Australia and the capital of Queensland. It is situated in the south east corner of the state, sandwiched between the Gold Coast to its south and the Sunshine Coast to its north. It lies on Moreton Bay which is formed between the mainland and both Moreton and Stradbroke islands which form its barrier from the swells of the Pacific Ocean. Brisbane also lies on the banks of the Brisbane River which flows through the centre of the city. Brisbane has a population of just over two million inhabitants. Like most Australian cities, Brisbane is a safe destination for tourists and has lots of attractions that lure tourists to stay there.
Because Brisbane has an international airport, many tourists come here first when entering Queensland. It has regular flights from all Australian capital cities, as well as many overseas destinations. It is the ideal place to start an Australian Holiday. Brisbane's attractions include the Lone Pine Koala sanctuary, the late Steve Irwin's Australia Zoo, a wonderful botanical gardens and many points of historical interest. The theme parks at Coomera, just north of the Gold Coast are only a short drive so places like Dreamworld and Movieworld are easy to access from Brisbane. Like most major cities, Brisbane has a host of accommodation which is suitable for travellers of all descriptions. It also hosts a number of sporting events which bring visitors by the thousand to stay in the city. Brisbane sporting teams cover many codes and form part of national competitions. Both the Australian Cricket team and the Brisbane Lions Australian rules football teams share "The Gabba" for many sporting fixtures. In rugby league, the Brisbane Broncos and the states mighty "Maroons" share the hallowed turf at Lang Park or Suncorp Stadium as it is now known and the Queensland Reds, rugby union team call the stadium at Ballymore home. There are tennis centres, soccer pitches, basketball stadiums that all are home to national teams.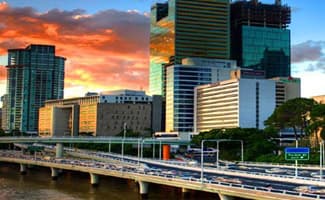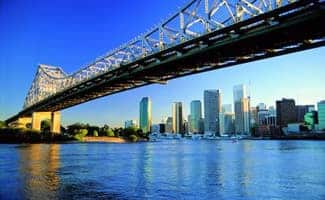 Tourist infrastructure is easy to find here. If you want to start a campervan or motor home holiday through Queensland and beyond, Brisbane is the ideal starting point. There are numerous companies that can provide the latest vehicles to ensure your comfort and safety. The Roma Street terminal is the place to join both coach and rail tours to all parts of the state and hotel, hostel and apartment accommodation is plentiful and within easy reach of all attractions. fantastic hotel and apartment style accommodation can be found in the cities CBD, in surrounding areas like Southbank and in areas that are conveniently located near Brisbane airport. On the islands in Moreton Bay, there are some international standard resorts with regular ferry services from the centre of the city.
If you are planning to spend part of your Australian holiday in Queensland, then the city of Brisbane is the ideal place to begin.