Cairns Apartments - Units - Town House - Condominium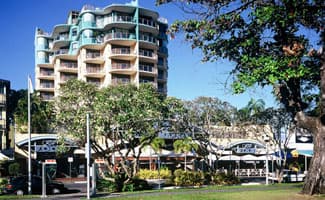 If it is room to move that you are looking for when booking your ideal place of accommodation for your next trip to Cairns, then why not check into one of the numerous Cairns Apartment properties within the city. From the CBD and the northern beaches like Palm Cove and Trinity Beach to the tranquil rainforests around Cairns, there are numerous options for you to decide between that will have you enjoying all of the main attractions that this number one holiday destination provides. All year round visitors from across the globe come to soak up the rays, laze on the pristine white sandy beaches that ribbon the coastline, visit the Great Barrier Reef and the neighbour islands and other attractions such as the Daintree Rainforest, rivers and Atherton Tablelands. From your chosen apartment that you check into, you can have all of this and so much more right on your doorstep for you to experience from the very moment you wake each morning.
Stay along the waterfront and enjoy the delights of the Cairns Esplanade each morning from your preferred apartment, stay down by the marina precinct and watch the coming and going of the many different luxury liners and boats each day from your private apartment balcony or perhaps tucking yourself away for complete privacy and seclusion appeals to you most where your own private plunge pool, surround sound, spa bath, bath robes and luxury living is just the beginning of what you will have included in your luxury apartment style range of accommodation.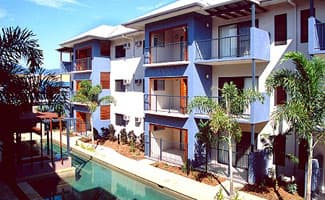 Whatever your taste, style or budget there are many different apartment scattered all over Cairns for you to check into and each property boasts its own onsite facilities for you to enjoy during your stay. From an indoor heated pool, outdoor swimming pool, spa, sauna, gym room, tennis courts, games room, restaurants, pool bar and more, these and plenty more can be just some of the facilities that your chosen apartment style accommodation may provide you. You can book studio apartments, one, two and three bedroom suites perfect for large families and group bookings, executive suites, spa suites and so many of the apartments in Cairns will come fully equipped with their own kitchen, air conditioning, hairdryer, in room spa, CD and DVD player, cable TV, comfortable bedding, modern furnishings, private balcony or courtyard and more.
Simply book an apartment that is perfect for you to crash in come the end of the night where standard accommodations are more than affordable or book into a stylish and sleek apartment where you will want for nothing and may wish you never had to leave. Cairns is a popular tourist destination so always make sure you book your apartment or holiday destination well in advance so that you can be sure to get your first choice and when making your reservations enquire about any extras, specials or holiday packages where you have your meals, accommodation, airport transfers and tours all included into the one attractive holiday deal.
Your apartment in Cairns will be the ideal home away from home, so book today and experience the many treasures, hidden secretes and famous attractions that Cairns provides to all its traveller and tourists for yourself!
» Apartments in Cairns: