Cairns Beaches Cruises
Cruises from the Cairns northern beaches are readily available. If you want to visit the Great Barrier Reef you have a number of options. Firstly, cruises are available from the Palm Cove Jetty, right in the middle of the region. Other options can be accessed from the Yorkeys Knob Marina. In both Cairns and Port Douglas, there are so many options it is hard to choose which one to take. There are sailing cruises, diving and snorkelling cruises, dinner cruises and fishing charters as well as jet ski rides and kayaking trips all to be enjoyed. Most of the Cairns and Port Douglas cruise operators have the facilities to pick you up from your Cairns beaches accommodation and drop you back at the end of the day.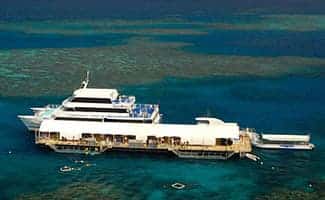 Cairns is also on many of the cruise agenda's for the international cruise companies. Many cruise ships visit this region every year and companies like P&O Cruises, Princess Cruises, Captain Cook Cruises and Orion Cruises are a regular sight anchored of the Cairns beaches shoreline.