Cairns Scuba Diving - Padi Tuition - Great Barrier Reef Dive Trips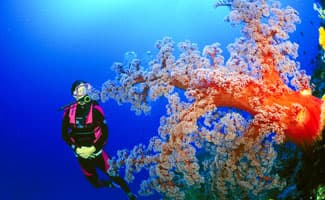 Cairns has been one of the worlds most sought after dive destinations for decades and is one of the Australian backpacker circuits most popular destinations. A visit to Australia is not complete without a stopover here and experience all that the region has to offer. When you holiday in far north Queensland, you will find that you are closer to the Great Barrier Reef than when you stay in more southern regions and this makes it much easier to get to the reef itself. Water clarity is also excellent in this region and that makes the diving all the more enjoyable. This is a destination for everyone who wants to be involved in scuba diving. Cairns has several dive schools that have excellent facilities. Some operators concentrate on the day market and take people to the reef and back on their own vessels. Some cater for the local extended tour market and offer two, three and four night extended diving charters while others take larger vessels deep into the outer reefs of the Coral Sea to dive in remote and pristine locations.
Some of the best diving operators in the area include Deep Sea Divers Den, Reef Encounter, Mike Ball Dive Expeditions, ProDive, Sunlover Cruises, Quicksilver, Calypso charters and Haba dive. The corals here are without parity in the world so come and spend your diving dollar in Cairns.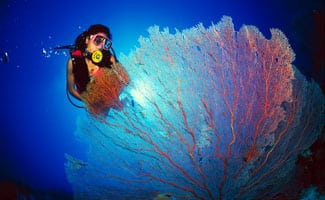 The Cairns hinterland also provides some spectacular sightseeing so when your dive adventure is over spend a few days in some of the best places to stay in north Queensland and experience the rainforest or some of the world heritage listed tourist destinations in the area. A trip on the skyrail to Kuranda and return via the Barron Falls is one of the most spectacular trips money can buy and the Daintree Rainforest is only a short drive north from port Douglas. There are many reasons to come to Cairns for a holiday, but for those whoe love nature and the water, a Cairns diving holiday is unforgettable. During the low and shoulder seasons you will often be able to find the best holiday specials that are offered by the local diving operators and these help them fill boats with lower prices on their diving trips.
Diving Operators from Cairns: