Cairns Luxury Accommodation - Five 5 Star Boutique Accommodation - Cairns Luxe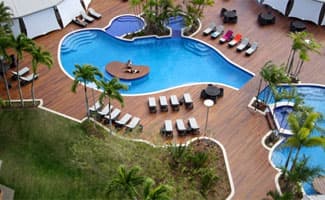 If you like to stay in luxury accommodation, then Cairns is the place for your next holiday. Cairns is located in the far north of Queensland in the wet tropics zone that is home to some of the last tropical rainforest in the world, that is still in pristine condition as well as being the most popular jumping off point, for international tourists, wanting to visit the Great Barrier Reef. In Cairns, you will find a selection of the best luxury places to stay that you can imagine. The range is extraordinary with excellent hotels located right in the Cairns CBD or in remote locations like the Daintree Rainforest. Fantastic resorts offer exceptional accommodation and activities. For example you can stay at a golf resort in Cairns or travel to somewhere special like Green Island or Lizard Island which both have luxury resorts and are situated right on the Great Barrier Reef. Luxe self contained apartment style accommodation and superb holiday homes are also available in Cairns, along the Cairns northern beaches in places like Palm Cove and also a little further north in beautiful Port Douglas.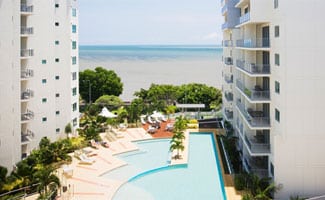 The Cairns CBD, with its distinctive wide streets, is situated right on the estuary from which all the Great Barrier Reef tours leave. Right along the river front, marina area and Cairns esplanade you will find the finest lodgings of all descriptions. The CBD is also filled with fabulous shopping arcades, night markets and a fantastic selection of restaurants, diners, fast food outlets and cafes. Everything you could possibly need is right at your fingertips. The Cairns CBD has no beachfront area. Just to the north of the city, places like Palm Cove, Trinity Beach, Clifton Beach and Yorky's Knob all have great beaches with lots of luxury beachfront accommodation available. The furthest from the city is Palm Cove which is only about twenty minutes drive. Port Douglas is also only a short drive to the north and it has some of the best luxe accommodation in Australia.
Your Cairns holiday should be spent enjoying the best luxury accommodation that can be found in this beautiful holiday city.