Cape York Attractions and Activities
While you are holidaying in Cooktown you will witness some of the very best and most exotic landscapes and awe-inspiring attractions and activities. Also, you will be able to see several tropical birds which alone can create a terrific scene.
You can find out about the area at the Cooktown Museum and the wonderful James Cook Historical Museum. Or perhaps you would like to visit the Mt Cook National Park, and nearby Mt Cook is definitely well worth the climb. The walk to the top and back down again takes about 3 hours, although the views are fantastic.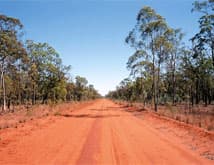 You can find lots of parks and gardens to visit as the attractions in Cooktown and Cape York. If really want get more insight over the natural attractions of Cooktown and Cape York then you must visit the Cooktown National Parks. Bushwalking will never be this enjoyable before as here you will be able to experience a little bit extra. You can also enjoy the view of cliffs, lagoon along with several other attractions. This Cooktown and Cape York attraction also provides you an opportunity to bring your family with you to have a nice, comfortable and serene picnic. You children can also find play grounds here to enjoy their heart out. Around the town you can cruise along the river and heading further afield, you can visit the Black Mountain National Park, Coloured Sands and Lakefield National Park.
There is also the opportunity to embark on one of Cooktown's most treasured attractions, and that is the outstanding fishing that you can do while you are here. The Wharf is one of the best places to throw in a line, or you can also just fish from one of the beaches. With anything from large Spanish Mackerel, Barramundi, Queenfish, Trevally and Mangrove Jack can be caught just by walking onto the public wharf and throwing in a line. If you don't feel like hiring a boat, you have an excellent chance of making a major catch whilst still being within walking distance of your accommodation. Or maybe you would like to check out the breathtaking views from the top of Hope Street where you can find the lookout at Grassy Hill.
There are also beautiful galleries, museums, shopping and dining that will entice even the most discerning traveller. You can even jump on board a cruise over to one of the neighboring islands of Lizard Island or Hope Island to indulge yourself for awhile. From the educational to the fun filled attractions perfect for the whole family, you are guaranteed to have a holiday filled with many fun memories and exciting adventures when you come to beautiful Cooktown.
As you can see Cooktown really does have everything from picturesque scenery, national parks, pristine beaches and many tours and rental options which you can book onto to enjoy this amazing place. So why don't you come and experience the many awe-inspiring attractions in Cooktown for yourself, and you will start to understand why it is classed as a tropical paradise!