Fraser Island Tours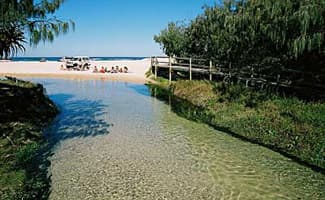 Tours on Fraser Island are positively the best way to see the island. There are a number of tour companies available and tours can be sourced from Hervey Bay, or. You can take your pick from self drive camping tours through one day tours, two day camping or accommodated tours or three day camping or accommodated tours. Some are designed to appeal to the backpacker market whilst others are more suitable for families. There are also exclusive tours for those who like less numbers, better meals and higher standards of Fraser Island accommodation. Also available is a multitude of four wheel drive hire options including fly drive packages. Whale watching trips are also available from Kingfisher Bay Resort.
The Fraser Explorer Tours offers a unique range of tours from and are very experienced. Their tours include a one day tour, a one day exclusive tour, a two day accommodated tour and a three day camping adventure. Kingfisher Bay resort and offer a huge range of tours from Hervey Bay, Rainbow Beach and Noosa. They have both a one day tour and an exclusive tour. They are also the only company whose tour includes Lake Mackenzie. They also have a two day accommodated tour. Many of the backpacker hostels in Hervey bay have self drive camping tours at very reasonable rates. operate from Brisbane and have some excellent accommodated 2 & 3 day tours as well as a day tour. During the season, Kingfisher Bay resort offers tours from the resort to Platypus Bay on the inshore side of Fraser Island to view the magnificent humpback whales. These creatures migrate through the area and tours are available from mid July through to early November.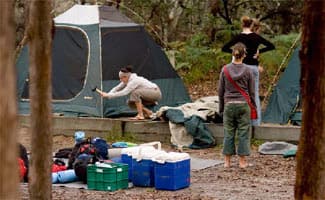 There is also the option of hiring your own four wheel drive and camping gear and just setting off on your own. Hervey Bay is a great jumping off point for this type of activity with regular vehicular barge services available to the island from Urangan Boat harbour or River Heads and these will deliver you to Moon Point, Kingfisher Bay Resort or Wangoolba creek on the Fraser Island side.
Australian Travel Wholesalers have been specializing in booking Fraser Island for over 15 years and our staff knows the island inside out. Don't hesitate to call one of our staff for help or advice. Our freecall number from within Australia is 1800 815 378 or from overseas +61 7 4128 6607. You can also email us for help. When Fraser Island tours are available as specials or packages they are displayed on our specials website which can be visited by following this link to
Tours to Fraser Island: