Hamilton Island Airport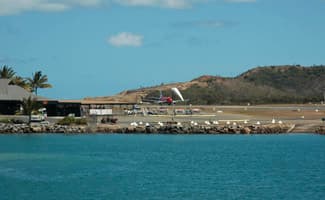 Hamilton Island has its own airport which is known as Great Barrier Reef airport. This facility gives Hamilton Island the unique ability to transfer guests direct to the island from many Australian destinations including Sydney, Brisbane and Melbourne. This airport is also used by other island resorts who transfer their customers by ferry from the terminal on Hamilton island.
The Hamilton Island Airport is long enough to cater for short haul passenger jets and both Qantas, Jet Star and Virgin Blue have regular daily services to cater for the huge influx of tourists who flock to this tropical paradise for their holidays. Hamilton Island airport also has a spacious passenger terminal building with modern security measures in place. The building is not airconditioned however the south east trade winds continually blow through the many louvered windows to keep the facility cool.
Hamilton Island airport provides the most convenient option for holiday makers visiting the islands of the Whitsunday Passage.