Sunsail Yacht Charter, Hamilton Island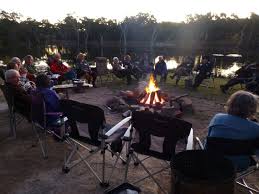 Sunsail Yacht Charter is Australia's premiere Whitsundays yacht charter company based on beautiful Hamilton Island in the heart of the Whitsundays.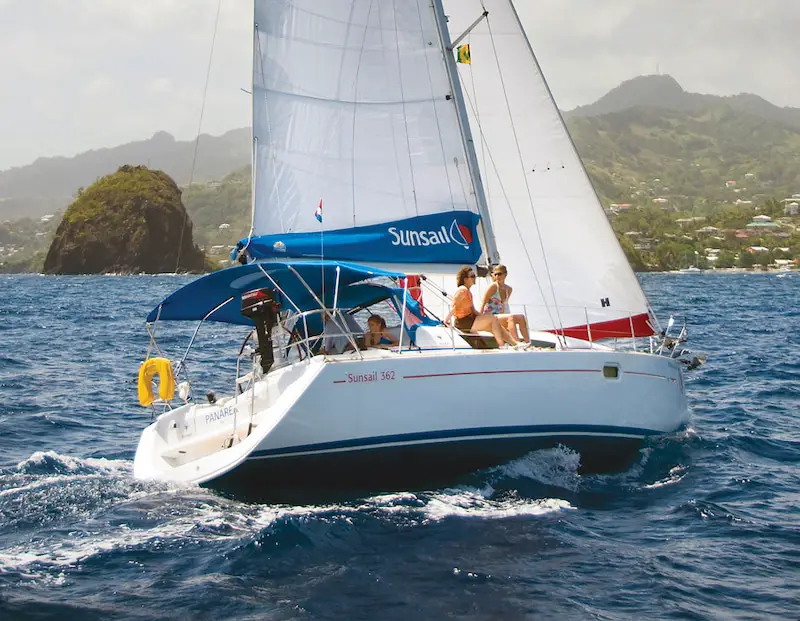 Sail yourself or choose a crewed charter, then escape for a day, a week, or even longer aboard one of our luxury vessels. Sunsail has a fleet of more than 37 immaculately appointed Beneteau, Jeanneau and Robertson & Caine yachts and catamarans to suit every style and budget.
Their vessels are equipped to the highest specifications and contain all you need to enjoy the ultimate sailing holiday. Sunsail Australia is part of the prestigious Sunsail International network, which has almost 1000 sailing vessels in 29 cruising destinations worldwide.
Their quality assurance guarantee is supported by the highest standards of service and quality in the charter industry. Cruise amongst the majestic Whitsunday Islands in the Great Barrier Reef and let the pressures of everyday life drift away with the gentle tides.
You can even learn the ropes from scratch or further your skills at Sunsail's fully RYA / YA accredited sailing school based on Hamilton Island.
At the base, at least one member of your party will undergo a yacht charter briefing with a Sunsail staff member. This is an important opportunity to learn about the yacht and the local cruising area.
Fleet Information

YACHTS
Every yacht is immaculately maintained and is fully-equipped.
CATAMARANS
They have everything you need for the perfect sailing holiday in the Whitsundays.
PRICES
Prices and conditions when chartering a yacht
CRUISING GUIDE
A brief guide to the Whitsundays
BASE INFORMATION:
The Sunsail base is very close to all of the conveniences in the Marina Village. There are shower/toilet facilities for guests, and the village also has a grocery store, National Australia Bank, post office, TAB, medical centre, bottle shop, bakery, souvenir store, newsagents and much more!
A multitude of activities will keep you entertained before you go on your
whitsunday sailing
experience, such as
A golf driving range
Mini-golf
Go-karts
A health club
A unique Wire Flyer
THE SUNSAIL FLEET
Sunsail Whitsundays has a fleet of 37 luxury:
Beneteau Oceanis yachts
Jeanneau Odyssey yachts
Beneteau Lagoon catamarans
Robertson & Caine Leopard catamarans
...ranging in size from 32 to 50 feet to suit every group size and budget.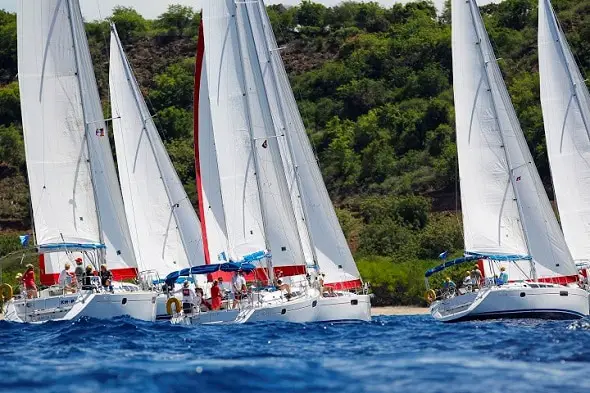 Sunsail operate in The Whitsundays and Great Barrier Reef, which is a World Heritage National Park. The Whitsundays are situated on the north east coast of Queensland, Australia, inside the Great Barrier Reef, between latitude 20° and 21° south and longitude 148° 48' and 148° 30' east.
Sunsail's cruising area is three times larger than other Whitsunday yacht charter companies, meaning you have the freedom to explore hundreds of islands and inlets between Bowen and Mackay.
In addition, Sunsail's sailing hours are longer, extending from an hour after sunrise to an hour before sunset.
GETTING TO SUNSAIL
The Whitsundays are located just off the Queensland Coast of Australia with the closest mainland port being Shute Harbour. Sunsail Whitsundays is conveniently based on Hamilton Island which is located in the heart of the Whitsundays and is the perfect location to start your yacht charter holiday.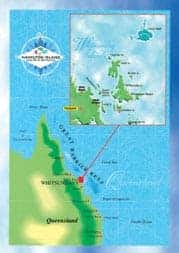 It has never been easier to get to the Whitsundays...
BY AIR
Hamilton Island is only a 1.5 hour direct flight from Brisbane, 2.5 hours from Sydney and 3.5 hours from Melbourne.
Fly Directly to Hamilton Island:
Jetstar, Qantas and Virgin Blue all offer direct flights to Hamilton Island's jet airport from most Australian capital cities.
Fly to to Proserpine Airport:
Fly Jetstar, Virgin or Qantas to Proserpine airport (Whitsunday Coast airport), which is located on the mainland. Proserpine is a 30 minute coach ride to Shute Harbour followed by a 40 minute ferry to Hamilton Island. Alternatively you can fly in a light aircraft from Proserpine airport to Hamilton Island airport.
Fly to Mackay Airport:
Fly Jetstar, Virgin or Qantas to Mackay airport which is also on the mainland. Mackay is a 120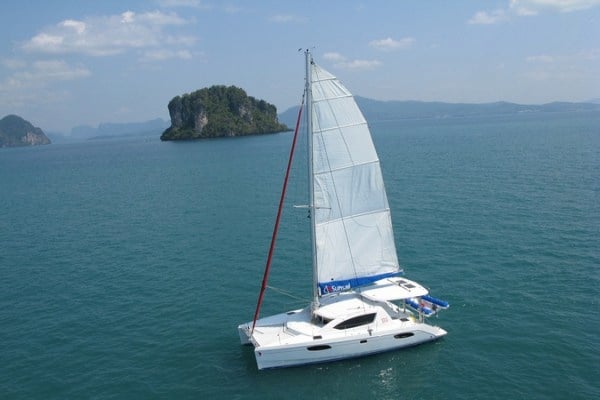 minute coach ride to Shute Harbour followed by a 40 minute ferry to Hamilton Island. Alternatively you can fly in a light aircraft from Mackay airport to Hamilton Island airport.
BY ROAD:
If you are driving or catching a coach to commence your Whitsunday sailing holiday, you need to drive to Shute Harbour which is located 10 minutes past Airlie Beach. On arrival to Shute Harbour you can lock your car up in the nearby security car parking facility and catch a ferry to Hamilton Island.
Airlie Beach (Abel Point Marina) starts:
For a delivery fee of $250 each way they can deliver your yacht to Airlie Beach so you can commence your charter from the mainland, instead of Hamilton Island.