Daydream Island Accommodation
Luxury Daydream Island accommodation is situated at the northern end of the island. The resort has been fully rebuilt and features some of the best accommodation and specials in the Whitsundays. When you book Daydream Island accommodation you have the choice of many living areas such as; island, daydream and reef rooms as well as terraces and decks.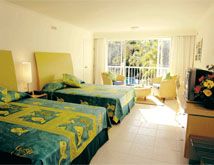 The island has many features including a delightful chapel, outdoor movie theatre, dive shop and numerous activities. Daydream Island is also highly sought after as a wedding and honeymoon venue and has the most elaborate health and spa facilities imaginable. Should you wish total body and spirit pampering this is the place for you.