Hamilton Island Weddings – Ceremony Locations
All Saints Chapel
Mark the start of your married life together with the chiming of the All Saints Chapel bells. This quaint white chapel is located amidst tropical landscaped gardens on the hillside overlooking Catseye Bay, complete with traditional stained glass windows and a bell tower.
As the name suggests, the All Saints Chapel is non-denominational, which enables the chapel to play host to ceremonies of almost all religions including Catholic, Uniting, Anglican and many more, in addition to being able to host non-religious ceremonies conducted
by a civil celebrant.
The All Saints Chapel is air-conditioned and provides a beautiful private location for both religious and non-religious ceremonies.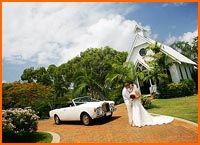 All Saints Chapel Gardens
If you love the location of Hamilton Island's All Saints Chapel but a chapel ceremony doesn't suit your needs, then the manicured lawns alongside the All Saints Chapel will be perfect.
Located next to the All Saints Chapel itself, the Chapel Gardens have a fantastic unspoilt view across Catseye Bay.
Beach Club Gardens
The Beach Club Gardens and Infinity pool are part of The Beach Club Resort on Hamilton Island, and with its lush green gardens and pool area, the Beach Club Resort is the perfect location for your outdoor ceremony. Due to the exclusive nature of The Beach Club, only couples who are staying at The Beach Club for their wedding may have their ceremony within its grounds.
Beach Club Conditions
The Beach Club is Hamilton Island's couples only 5 star resort and therefore does not allow children within its grounds, however for the purpose of weddings 1 Page boy and 1 Flower girl will be permitted at the ceremony only. Babysitters or the islands Clownfish club can be arranged for other children in your group.
The wedding couple must be staying at the Beach Club on at least the night of the wedding day to utilise the Beach Club grounds for their ceremony and/or photography and video tour, however to truly experience all the Beach Club has to offer, we suggest that you stay at least 2 nights.
For the comfort of other guests only weddings with a maximum of 30 guests can utilise the Beach Club for their ceremony, however larger weddings can still utilise the grounds and Infinity Pool on their photo & video tour.
Catseye Beach
Catseye Beach is one of Hamilton Islands most popular outdoor ceremony locations, at high or low tide Catseye Beach boasts one of the best settings found in the Whitsundays.
One Tree Hill
Hamilton Islands One Tree Hill Ceremony Location is set in a Pavilion overlooking the Beautiful Whitsunday Islands.

To the East the view extends from Catseye Bay to Whitsunday Island and across to the horizon. To the West the view consists of Dent, Henning & Plum Pudding Islands, then beyond to Whitsunday Passage over Long & South Molle Islands & concludes with the Mainland of Australia 12 km away.

Please Note: Hamilton Island provides a sunset drinks service at One Tree Hill on a daily basis, open to all guests of Hamilton Island. On occasioons where a late wedding is taking place this bar service will not begin until 45 minutes after the set ceremony start time. While the bar may not be open for service, please be aware that many other guests may gather to view the sunset while your ceremony is still taking place.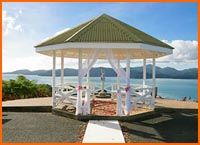 Whitsunday Gardens
Whitsunday Gardens is located directly in front of Whitsunday Apartments high rise building on the resort side of Hamilton Island. The area consists of lush green manicured lawns and scattered garden beds. Whitsunday Gardens also has a broken view of the Catseye Bay through the palm trees.
Whitehaven Beach
Whitehaven Beach is arguably the most beautiful beach in the world. Its unique white sand and clear blue water makes it one of the most stunning and most unique places to be married. Although you will feel a million miles from anywhere, Whitehaven Beach is actually located on Whitsunday Island, and is only 8 minutes flight by helicopter from Hamilton Island.

Whitehaven Beach Ceremony Permit
Hamilton Island Weddings is the only company with a commercial permit specifically to conduct wedding ceremonies on Whitehaven Beach, which means you are not required to apply for and obtain your own permit from the Great Barrier Reef Marine Park Authority and Environmental Protection Agency.
Transfer Options
There are many options available to transport yourself and your guests to Whitehaven Beach. These include helicopter, sea plane, motor and sail boat. For more information regarding how to get yourself and your guests to Whitehaven Beach, please contact your wedding consultant.