Hamilton Island
Wedding Products and Services
Hamilton Island Weddings can arrange Products and Services to make your wedding an unforgettable experience.
Please contact us if you need more information regarding these Products and Services.
Wedding Photography
Photography Packages
Wedding Video/DVD
Photo & Video Locations
Beach Club Pool & Gardens
Catseye Beach
One Tree Hill
Hamilton Island Marina
Shady Creek
Whitehaven Beach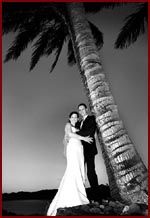 Bouquet & Flowers
You have 2 choices in regards to your floral requirements;
Contact Floral Collections directly to arrange a quote
Have your consultant arrange a quote from an alternate supplier
Decoration & Theming
For your ceremony
For your reception
I Do events are professionals in the field of reception & ceremony set up, they supply a number of products including chair covers and wraps of various colours and designs, table decorations, white carpet aisle and much more!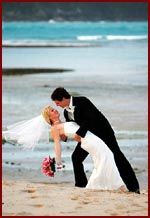 Celebrants & Officiators
Hamilton Island Weddings can arrange and facilitate both religious and civil ceremonies on Hamilton Island. Various religious officiants visit Hamilton Island regularly for the purpose of conducting weddings, these include:
While the above religious officiants conduct weddings on Hamilton Island regularly, should you wish to have a ceremony of another creed or religion, please don't hesitate to contact us and Hamilton Island Weddings will make every effort to locate the appropriate person to officiate your wedding ceremony here, as well as looking into any other steps involved in making this ceremony a reality
Entertainment Options
Bag Piper

 – Theres no better way to walk down the isle than to the sound of traditional bag pipes.

Beven Addinsall

 – Always in the spotlight – Beven is a natural born entertainer who combines his powerful and versatile voice with an amazing energy and presence

DJ

 – DJ's are by far the most popular entertainment for weddings, largely becuase they can play a wide range of music as the mood and energy level changes throughout the night.
Transport Options
Jaguar Limousines

 – Travel in style to your ceremony.

Decorated Golf Buggy

 – The main form of transport on Hamilton Island is golf buggy, and when decorated, golf buggies are a great mode of transport for couples seeking a more relaxed "island" style wedding.

Bus Transfers

 – With everything planned down to the finest detail, it would be a shame to have your guests walking to your ceremony location when Hamilton Island Weddings can supply comfortable air-conditioned busses for your wedding day.
Wedding Stationery
A wedding invitation is an announcement to the world that there is a special occasion to celebrate and sets the theme and style of the event. Whether it be an elegant, formal or contemporary wedding.
Hair & Makeup
Hamilton Island's Hair & Beauty Salon is especially equipped to deal with Wedding Clients. The salon Staff are especially chosen for their dedication to their profession.
Wedding Cake
Rather than having to design your own wedding cake, they have pre-quoted and listed over 60 wedding cakes. You can simply pick the cake of your choice and advise your wedding consultant of the number of guests you would like it to serve. This will then be ordered and waiting for you when you arrive at your reception, its that simple.
Fireworks Display
Hamilton Island Weddings can arrange for professional fireworks to make your wedding reception all the more memorable for you and your guests.
Butterfly Releases
Fill the sky with the release of beautiful Butterflies to add a unique and memorable touch to your ceremony!
Butterfly releases are a great way of involving your guests in your special day, or you may choose to have just 2 or 3 Butterflies for just the yourselves to release.
Suit Hire
Hamilton Island Weddings is an Agent for Sibby Saitta Formal Hire who have a large range of stylish suits for any occasion.